Dear users,
MEXC is pleased to announce an Exclusive Referral Event for the FWC Token community, there is a total of 55,420,716,301,393 FWC up for grabs!
For more information about FWC Token (FWC) Listing on MEXC, please refer to the official announcement.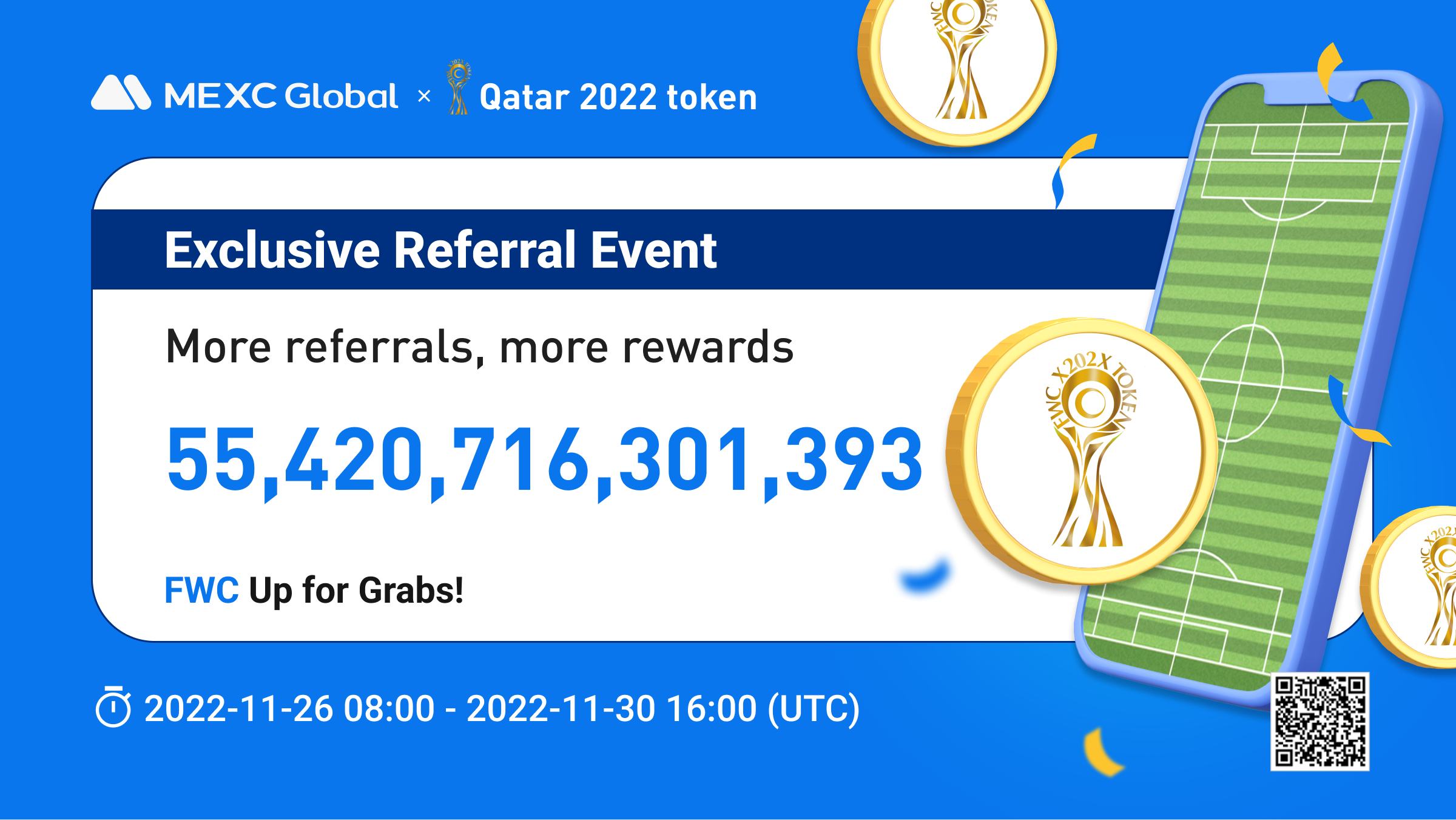 ⏰Event Period: 2022-11-26 08:00 - 2022-11-30 16:00 (UTC)
How to participate:
I. Refer friends to trade and share a prize pool of 22,168,286,520,557 FWC!
During the event period, inviters(you) will be eligible to win a share of 22,168,286,520,557 FWC by following these 3 steps:
Inviters (you) must fill in the google form to successfully participate in the event:

>> Link <<

Inviters (you) can click

HERE

for your referral link to invite your friends;

Each invitee (your friends) must complete the following 2 tasks to qualify as a

successful invitation

:
Spot Trading Volume ≥ 300 USDT

Trade Now >>

Have a minimum balance of 100 USDT worth of any digital assets in MEXC Account until the event ends.
*The more you invite, the more rewards you earn!
The reward for each qualified user = Each user's number of successful invitees / Total number of successful invitees of all qualified users * 22,168,286,520,557 FWC

II. Special reward for invitees: 33,252,429,780,836 FWC up for grabs!
After completing the above tasks of registering, trading, and holding on MEXC during the event period, invitees could share a prize pool of 33,252,429,780,836 FWC.
*The rewards will be distributed based on each eligible user's spot trading volume in proportion to the total spot trading volume.
Terms and Conditions
All inviters are required to fill in their UID in the

google form

to participate in the event successfully.

Friends you invite need to register through your invitation link or affiliate link. Otherwise, the invitation relationship can not be identified.

Valid Trading Volume = Buys + Sells.

Valid Trading Volume will only be counted for trading volume accumulated with trading fees.

Users participating in this event must complete the required KYC verification before the end of the event to be deemed eligible for the rewards.

FWC token rewards will be allocated to winners' MEXC spot wallets within 11 business days after the event concludes.

Successful invitees rewarded for this FWC Token Exclusive Referral event are not valid for other Exclusive Referral event invitee rewards.

Your invitees that have been rewarded for previous Exclusive Referral events will not be eligible for this event's invitee referral rewards.

MEXC reserves the right to disqualify users that are deemed to be wash trading, illegally bulk registered accounts, as well as trades that display attributes of self-dealing or market manipulation.

All participating users are deemed to participate voluntarily. This event does not constitute any investment advice.

MEXC reserves the right to interpret this event at our sole discretion.
Find us on
Medium: https://medium.com/mexcglobal
Telegram: https://t.me/MEXCEnglish
Twitter: https://twitter.com/MEXC_Global
Facebook: https://www.facebook.com/mexcglobal
Discord: https://discord.com/invite/4Jrghy7gxs
Instagram: https://www.instagram.com/mexcglobal/
Blog: https://blog.mexc.com/
Buy USDT Instantly here: https://otc.mexc.com/
Refer a friend to enjoy a high rebate, create your personalized invitation link today: https://www.mexc.com/invite
Enjoy trading on MEXC.
The MEXC Team
25 November 2022