Dear users:
MEXC will list Across Protocol (ACX) in the Assessment Zone and open trading for the ACX/USDT trading pair. The specific timeline is shown below.
Deposit & Withdrawal: Opened

ACX/USDT Trading: 14:45 2022-11-28 (UTC)
Note:
1. Prices may fluctuate greatly for projects listed in the Assessment Zone, please be cautious and be aware of the hidden risks of delisting.
2. MEXC has now supported ACX deposits on Ethereum, Arbitrum, Optimism, and Matic network. Withdrawal will be available until further notice.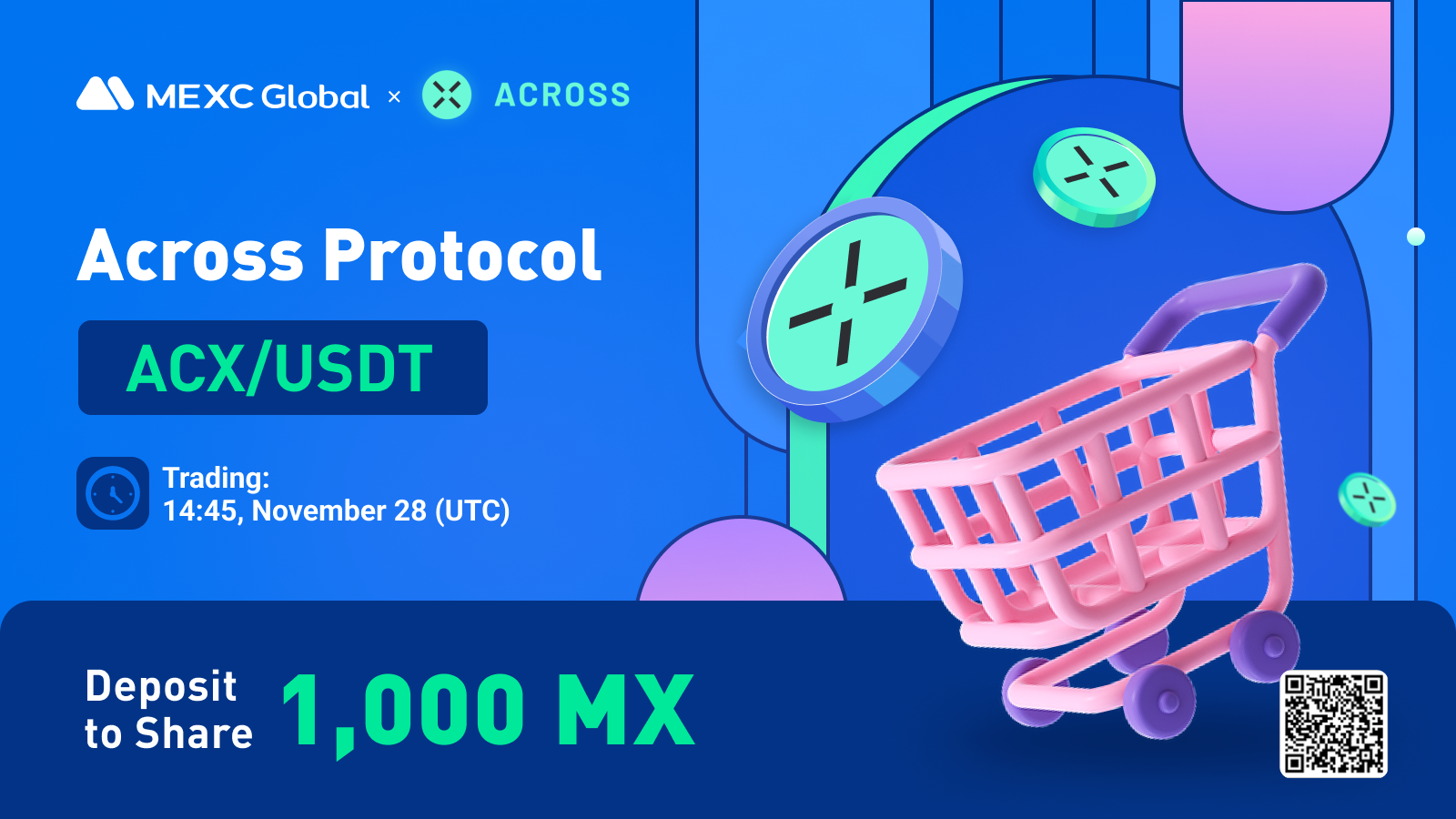 Deposit ACX and claim from a 1,000 MX prize pool!
Activity Period: 2022-11-28 02:00 - 2022-12-02 16:00 (UTC)
During the activity period, users who deposit ACX with a net deposit of no less than 20 USDT worth of ACX could share a total of 300 MX prize pool in proportion to the net deposit amount; users who deposit ACX with a net deposit of no less than 50 USDT worth of ACX could share a total of 700 MX prize pool in proportion to the net deposit amount.
🎁 We have more rewards for you 🎁
Refer a friend and get ACX rewards for each successful referral, and an exclusive ACX prize pool for newbies too! For the event details, please check >> Link <<
Project Info
(This information is sourced from the internet. Strictly for references only.)
Project Name: Across Protocol (ACX)
Official Website: https://across.to/
Block Explorer:
(Ethereum) https://etherscan.io/token/0x44108f0223a3c3028f5fe7aec7f9bb2e66bef82f
(Optimism) https://optimistic.etherscan.io/token/0xff733b2a3557a7ed6697007ab5d11b79fdd1b76b
(Arbitrum) https://arbiscan.io/token/0x53691596d1BCe8CEa565b84d4915e69e03d9C99d
(Polygon) https://polygonscan.com/token/0xF328b73B6c685831F238c30a23Fc19140CB4D8FC
Twitter: https://twitter.com/AcrossProtocol
Discord: http://discord.gg/across
Medium: https://medium.com/across-protocol
GitHub: https://github.com/across-protocol
Project Brief Introduction:
Across is a cross-chain bridging solution that supports fast, secure and cost-efficient transfers.
It relies on a decentralized group of relayers to fulfil user deposit requests from EVM to EVM networks. Relayer funds are insured by liquidity providers in a single pool on Ethereum and refunds are processed via the UMA Optimistic Oracle.
Note:
Net Deposit = Deposit - Withdrawal

Users participating in this event must complete the required KYC verification before the end of the event to be deemed eligible for the rewards.

MX rewards will be distributed within 10 working days after the event has concluded.

All the MX rewards will be brought back from the secondary market.

The deposit amount will be calculated based on the hourly closing price of ACX.

The amount of MX rewards depends on the real-time MX/USDT price on MEXC Global at the time of distribution.

MEXC reserves the right to disqualify users that are deemed to be wash trading, illegally bulk registered accounts, as well as trades that display attributes of self-dealing or market manipulation.

MEXC has the final interpretation right of the event.
Risk Warning
Cryptocurrency investment is subject to high market risk. Please make your investments cautiously. MEXC Global will make the best efforts to choose high-quality tokens, but will not be responsible for your investment losses. As a digital asset trading platform that respects the community, MEXC adheres to the principle of truthful, transparent and fair trading with no malicious intent. We are committed to providing users with safer, more efficient, and more reliable digital assets trading.
Find us on
Medium: https://medium.com/mexcglobal
Telegram: https://t.me/MEXCEnglish
Twitter: https://twitter.com/MEXC_Global
Facebook: https://www.facebook.com/mexcglobal
Discord: https://discord.com/invite/4Jrghy7gxs
Instagram: https://www.instagram.com/mexcglobal/
Blog: https://blog.mexc.com/
Buy USDT Instantly here: https://otc.mexc.com/
Refer a friend to enjoy a high rebate, create your personalized invitation link today: https://www.mexc.com/invite
Enjoy trading on MEXC.
The MEXC Team
28 November 2022