Dear Users,
To reward the community members for their support, the Galaxy Finance team will host a Trade Mining event exclusively for MEXC users. There will be a total of 9,951 GLF up for grabs!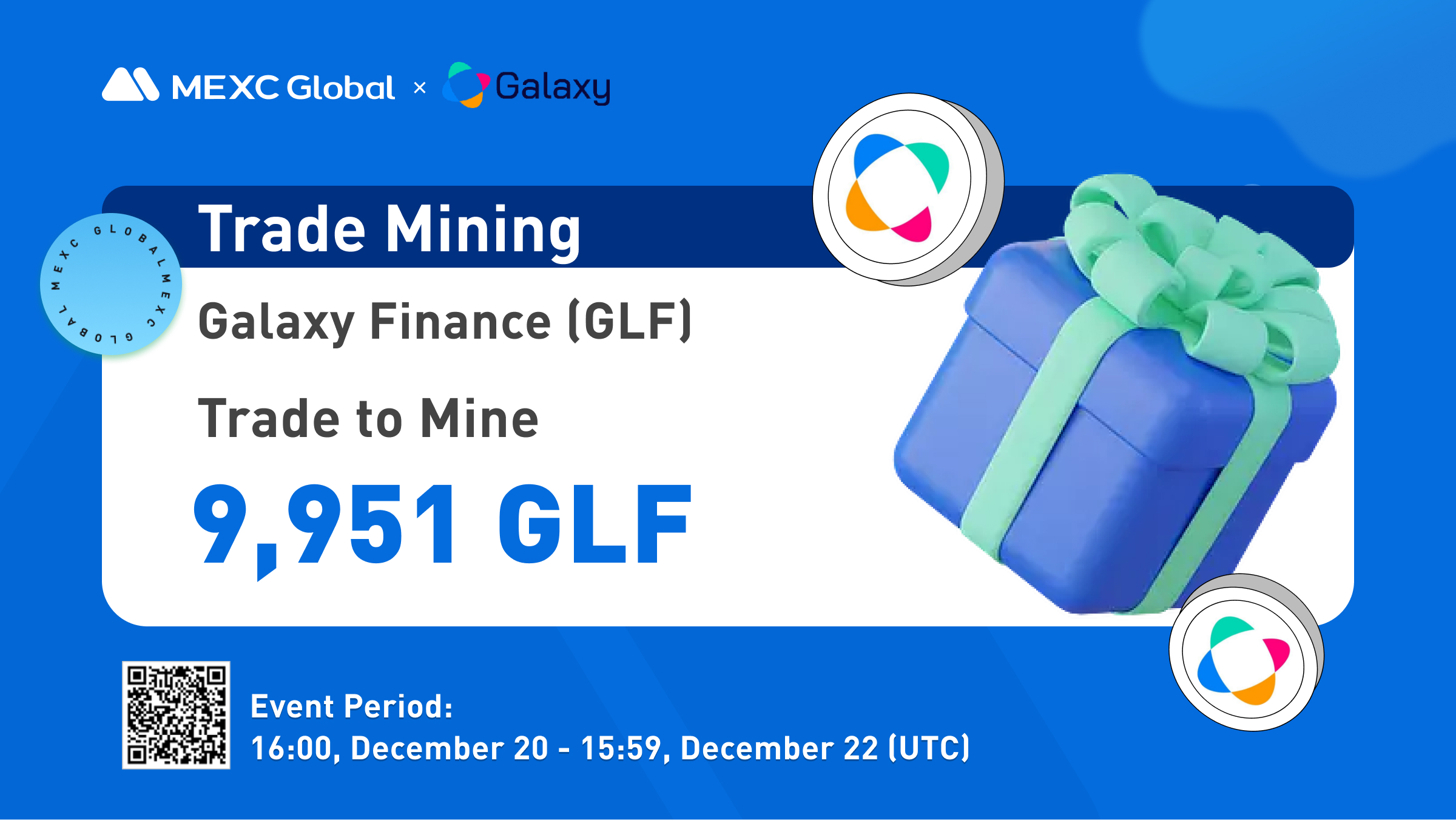 Event Period: 2022-12-20 16:00 - 2022-12-22 15:59 (UTC)
Rules:
The total prize pool is distributed equally over each day of the event period.

Users can trade GLF to share a daily prize pool of 4,975.5 GLF in proportion to the total amount of GLF traded for the day.

2022-12-20 16:00 - 2022-12-21 15:59: Share from 50% (4,975.5 GLF) of total prize pool

2022-12-21 16:00 - 2022-12-22 15:59: Share from the remaining 50% (4,975.5 GLF) of total prize pool

The effective trading volume will be calculated from 16:00 (UTC) to 15:59 (UTC) daily.

Rewards will be calculated on a daily basis and issued to the user's account on the following day at 08:00 (UTC).





Daily Reward Calculation:
Daily rewards for each user = (Each user's daily trading volume /daily trading volumes of all users) * daily prize pool
For Example:
Suppose User A trades 1,000 GLF for the day, the total trading volume of all participants is 100,000 GLF, and the daily prize pool is 4,975.5 GLF,
Daily reward for User A = (1,000/100,000) *4,975.5 GLF = 49.75 GLF
Terms & Conditions
Valid Trading Volume = Buys + Sells.

The maximum daily reward for each user is 249 GLF.

Users can only share rewards when their comprehensive trading fee rate exceeds 0.08% (

Individual Trading fee rate

= Individual trading fees generated by trading GLF/Individual trading volumes of GLF)

This event is limited to master accounts, and not available for sub-accounts.

Valid Trading Volume will only be counted for trading volume accumulated with trading fees.

Market makers, API traders, and institutional accounts are unable to participate in this event.

MEXC reserves the right to disqualify users that are deemed to be wash trading, illegally bulk registered accounts, as well as trades that display attributes of self-dealing or market manipulation.

This event was initiated by the GLF team, and the rewards are provided by the project party. All participating users are deemed to participate voluntarily. This event does not constitute any investment advice.

MEXC reserves the right to interpret this event at our sole discretion.
Risk Reminders
Users are strongly advised to do their own research before participating. Nothing herein shall be construed as financial advice or recommendation to participate in the associated network. The price of the project token may fluctuate greatly due to market conditions and other factors. Withdrawal for the project token may be suspended (fully/partially) due to the token mechanism.
Find us on
Medium: https://medium.com/mexcglobal
Telegram: https://t.me/MEXCEnglish
Twitter: https://twitter.com/MEXC_Global
Facebook: https://www.facebook.com/mexcglobal
Discord: https://discord.com/invite/4Jrghy7gxs
Instagram: https://www.instagram.com/mexcglobal/
Blog: https://blog.mexc.com/
Buy USDT Instantly here: https://otc.mexc.com/
Refer a friend to enjoy a high rebate, create your personalized invitation link today: https://www.mexc.com/invite
Enjoy trading on MEXC.
The MEXC Team
20 December 2022