Dear users,
MEXC will list Injective (INJ) and Vulcan Forged (PYR) in the Innovation Zone and open trading for the INJ/USDT and PYR/USDT trading pair. The specific timeline is shown below:
Note: Prices may fluctuate greatly for projects listed in the Assessment Zone, please be cautious and be aware of the hidden risks of delisting.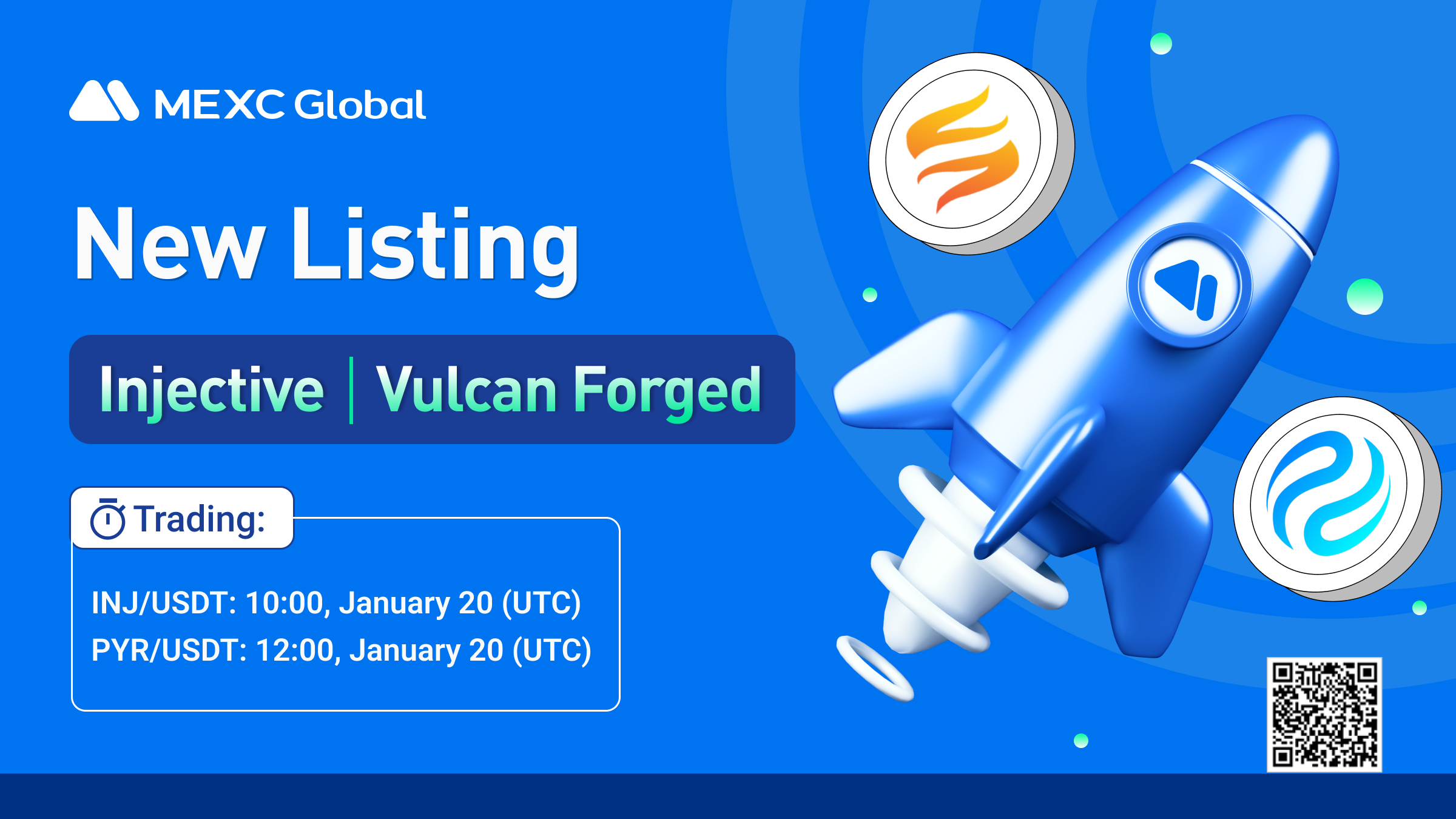 About Injective (INJ)
Injective's mission is to create a truly free and inclusive financial system through decentralization.
With the fastest blockchain built for finance and plug-and-play Web3 modules, Injective's ecosystem is reshaping a broken financial system with dApps that are highly interoperable, scalable and truly decentralized.
Official Website | Block Explorer (ERC-20) | Block Explorer (BEP-20)
Twitter | Telegram | Discord | Whitepaper
About Vulcan Forged (PYR)
Designed as an easy-to-play and easy-to-build ecosystem, Vulcan Forged is a community-based project that promotes the development of world-class blockchain games by supporting developers through its development programs, incubation and crowdfunding.
For blockchain game enthusiasts, Vulcan Forged is a one-stop shop where they can access popular games and a huge NFT marketplace to buy and sell digital assets in-game. The entire ecosystem is powered by its own PYR settlement, staking and utility token. The ERC20-compatible PYR is a cross-platform currency that can be used in game titles that are part of the Vulcan Forged ecosystem.
Official Website | Block Explorer (ERC-20) | Block Explorer (Polygon)
Twitter | Telegram | Discord | Whitepaper
Risk Warning
Cryptocurrency investment is subject to high market risk. Please make your investments cautiously. MEXC Global will make the best efforts to choose high-quality tokens, but will not be responsible for your investment losses. As a digital asset trading platform that respects the community, MEXC adheres to the principle of truthful, transparent and fair trading with no malicious intent. We are committed to providing users with safer, more efficient, and more reliable digital assets trading.
Find us on
Twitter | Telegram | Medium | Facebook | Discord|Instagram|Blog
Buy USDT Instantly here: https://otc.mexc.com/
Refer a friend to enjoy a high rebate, create your personalized invitation link today: https://www.mexc.com/invite
Enjoy trading on MEXC.
The MEXC Team
20 January 2023