Dear Users,
MEXC is excited to present the CORE Deposit Contest, exclusively for all MEXC users. There are special rewards for the first 2,000 new users who register MEXC account and deposit CORE with us!
For more information about Core (CORE) Initial Listing on MEXC, please refer to the official announcement.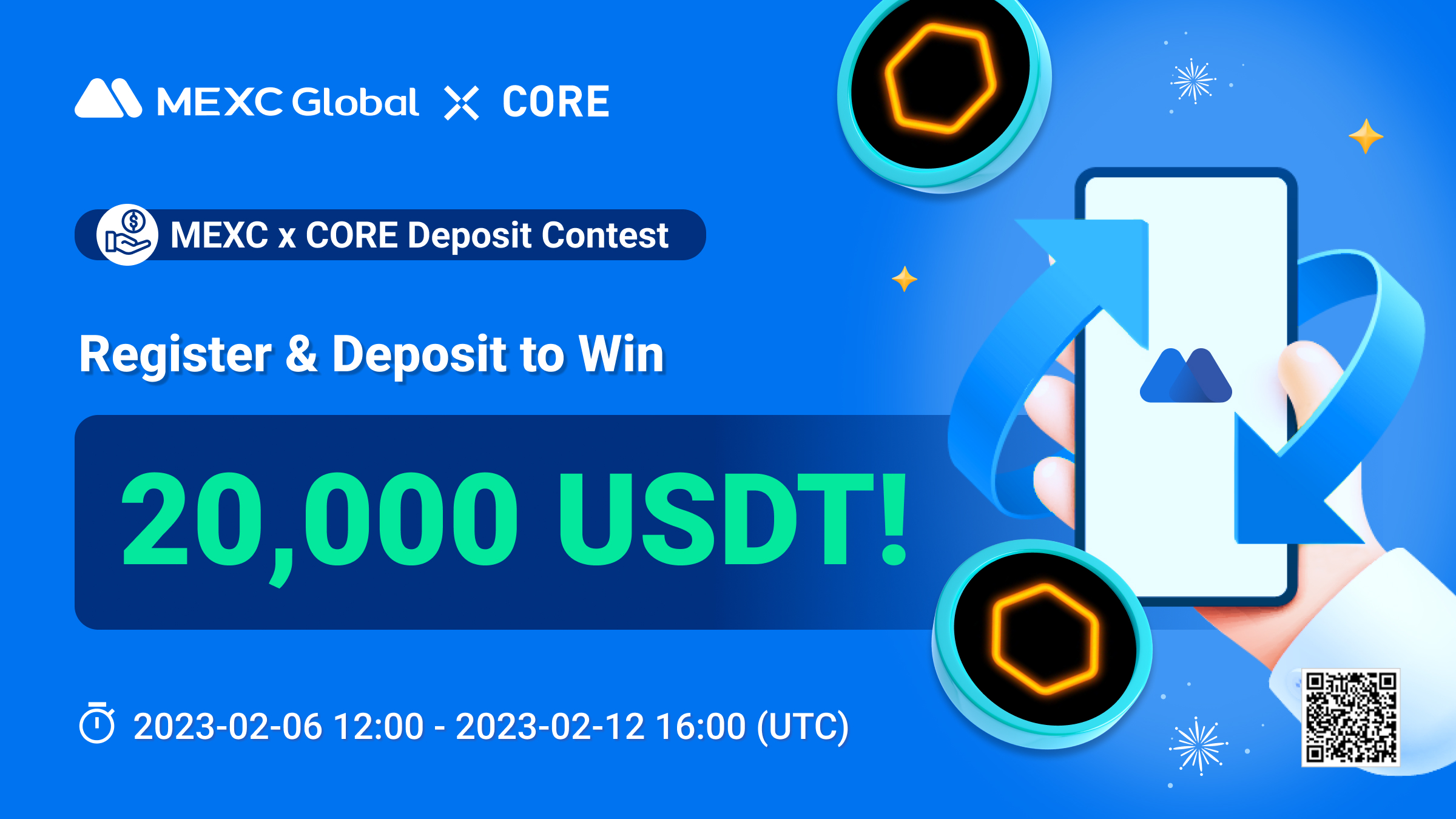 Promotion Period: 2023-02-06 12:00 - 2023-02-12 16:00 (UTC)
Promotion A: Register & Deposit to Earn 5 USDT Exclusively For New Users
The first 2,000 new users can win 5 USDT by completing the following tasks:
Sign up

for a MEXC account during the promotion period;

Submit your MEXC UID through the given Google form link

:

> Link <
Make the first deposit with a net amount of not less than 10 USDT worth of CORE;
Promotion B: For All MEXC Users - Deposit to Share 10,000 USDT
During the promotion period, users who deposit CORE with a net deposit of no less than 10 USDT worth of CORE could share a total of 10,000 USDT prize pool in proportion to the net deposit amount.
Click Here to Start Deposit Now >>
Note:
Net Deposit = Deposit - Withdrawal. Transfer amounts between MEXC accounts will be excluded.

New users must fill in their UID in the

Google form

to participate in promotion A successfully. Otherwise, it will result in only being eligible for Promotion B rewards.

For Promotion A, only users who haven't performed any deposit transactions on MEXC Global before 16:00, 2023-02-12 (UTC), and performed the first CORE deposit transaction during the promotion period will be eligible for the rewards.

The rewards for Promotion A and Promotion B are mutually exclusive. Users are limited to one highest reward only.

Promotion A rewards

will be shared on a first-come-first-served basis.

The deposit amount will be calculated based on the hourly closing price of CORE.

All rewards will be distributed within 10 working days after the event.

MEXC reserves the right to disqualify users that are deemed to be wash trading, illegally bulk registered accounts, as well as trades that display attributes of self-dealing or market manipulation.

MEXC has the final interpretation right of the event.
Risk Warning
Cryptocurrency investment is subject to high market risk. Please make your investments cautiously. MEXC Global will make the best efforts to choose high-quality tokens, but will not be responsible for your investment losses. As a digital asset trading platform that respects the community, MEXC adheres to the principle of truthful, transparent and fair trading with no malicious intent. We are committed to providing users with safer, more efficient, and more reliable digital assets trading.
Find us on
Twitter | Telegram | Medium | Facebook | Discord|Instagram|Blog
Buy USDT Instantly here: https://otc.mexc.com/
Refer a friend to enjoy a high rebate, create your personalized invitation link today: https://www.mexc.com/invite
Enjoy trading on MEXC.
The MEXC Team
06 February 2023