Dear MEXCers,
MEXC Global is thrilled to launch another session of Kickstarter, a listing campaign initiated by the project team on MEXC before launch where users can stake tokens and vote to support their favorite project.
This event is designed to identify high-quality projects and at the same time, bring airdrop benefits to MEXC users.
Presenting the project for this session of Kickstarter, TOP Network (TOP).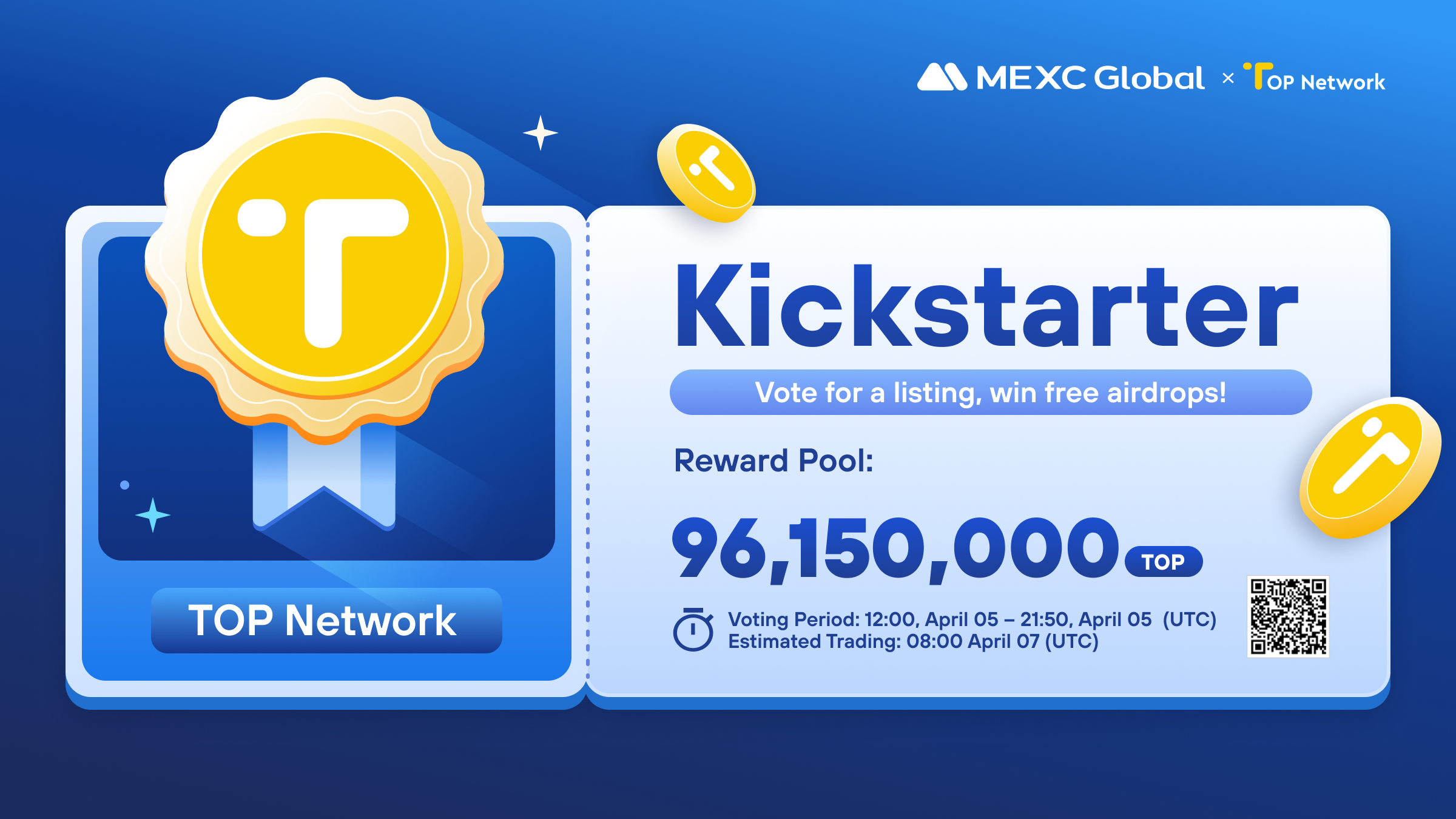 About TOP Network (TOP)
TOP Network is mainly committed to providing services for massive ordinary users, satisfying high-demand user experience, supporting cost-sensitive large-scale real business, and is the blockchain infrastructure of the Internet of Value.
Businesses such as Web3.0, GameFi, and Metaverse, which are very sensitive to transaction throughput, transaction confirmation speed, transaction fees, and user experience, are the core businesses in the TOP Network ecosystem.
To support these businesses, TOP Chain has built a powerful public chain with low cost, low entry barrier, and high throughput via a series of innovative technologies such as sharding and a three-layer network, which has strong adaptability and can meet the requirements of high frequency and real-time performance of the real businesses.
Total Supply: 20,000,000,000 TOP
Official Website | Block Explorer | Twitter | Telegram | Whitepaper
How to join Kickstarter:
Users can stake MX tokens to participate in voting and stand a chance to win free project airdrops. The maximum amount of MX you can commit depends on the MX balance in your Spot Wallet at the snapshot time (MEXC will take a random snapshot of users' MX holdings during the snapshot period).
Details are as follows:
1. Registration Eligibility: Hold at least 1000 MX or more for 5 consecutive days before 2023-04-04 16:00 (UTC)
2. Voting Period: 2023-04-05 12:00 to 2023-04-05 21:50 (UTC)
3. Estimated Trading: 2023-04-07 08:00 (UTC)
4. Deposit: Opened
5. Withdrawal: 2023-04-08 08:00 (UTC)
6. Voting Link: https://www.mexc.com/sun/assessment
7. Airdrop Details:
Reward Pool:

96,150,000 TOP

Price: 0 USDT (Reference Price: $0.000624)
8. Voting Token: MX
9. Requirements: 1,000 ≤ MX ≤ 500,000
10. Rules: The tokens used for voting will be temporarily locked during the event period and will be unlocked within an hour once the event concludes. Users can vote as many times as they wish before the voting period ends.
11. Rewards: The airdrop rewards will be distributed proportionally within an hour according to users' total votes once the event concludes.
12. MX locked in Launchpad or Kickstarter during the snapshot period will not affect the snapshot MX holdings.
13. The reward allocation will be distributed in proportion based on your effective committed MX quantity as shown by the table below:
| | |
| --- | --- |
| Committed Quantity | Commitment Coefficient |
| 1,000 ≤ X < 3,000 | 1 |
| 3,000 ≤ X < 5,000 | 1.05 |
| 5,000 ≤ X < 10,000 | 1.1 |
| 10,000 ≤ X < 20,000 | 1.15 |
| 20,000 ≤ X < 100,000 | 1.2 |
| 100,000 ≤ X < 500,000 | 1.25 |
Effective committed MX amount of current user = committed MX amount * MX Multiplier
User's rewards = committed MX amount of the current user / committed MX amount of all users * total prize pool
For example, User A participated in Kickstarter Campaign & committed 6000 MX, thus the reward calculation would be:
User A's rewards = (6000 MX*1.1) / 100,000,000 * 96,150,000 TOP
The more MX you hold, the more airdrop rewards you get!
For more details, please visit the Kickstarter page
Terms & Conditions:
Market-making & project party account is not eligible to participate in the campaign.

Staked tokens will be refunded once the event concludes. No fees will be required for participation in the Kickstarter event.

Users participating in this event must complete the required KYC verification before the end of the event to be deemed eligible for the rewards.

MEXC has the final interpretation right of this event.
Risk Disclosure
Start-up blockchain projects may face significant risks in operation, underlying technology, and legal and regulatory environments. Investing in such projects requires rich technical and financial knowledge to understand the inherent risks associated with blockchain start-ups. Before making any investment decisions, we recommend that you conduct thorough due diligence, evaluation, or seek advice from professional consultants.
The prices of digital assets related to blockchain projects exhibit high volatility and may fluctuate due to various factors. Investing in such projects may result in significant or total investment losses. Additionally, due to underlying technology of blockchain projects or cyber attacks, you may be unable to withdraw digital assets related to blockchain projects partially or completely.
When deciding whether to invest in this project, please carefully assess the risks and make a decision based on your risk tolerance. MEXC does not guarantee or compensate for any investment losses incurred by you.
Find us on
Twitter | Telegram | Medium | Facebook | Discord|Instagram|Blog
Buy USDT Instantly here: https://otc.mexc.com/
Refer a friend to enjoy a high rebate, create your personalized invitation link today:
Enjoy trading on MEXC.
The MEXC Team
3 April 2023