Dear users,
MXC will launch "Return of the Kings" at 00:00, April 7, 2021 (UTC+8). Trade selected ETF products & stand a chance to win awesome rewards! At the same time, users can share order screenshot to receive limited BTC3L airdrops. Details are as below:
Event Duration: 00:00, April 7, 2021 - 23:59, April 12, 2021 (UTC+8)
ETF Products included:
Event Rules:
i. Kings Tournament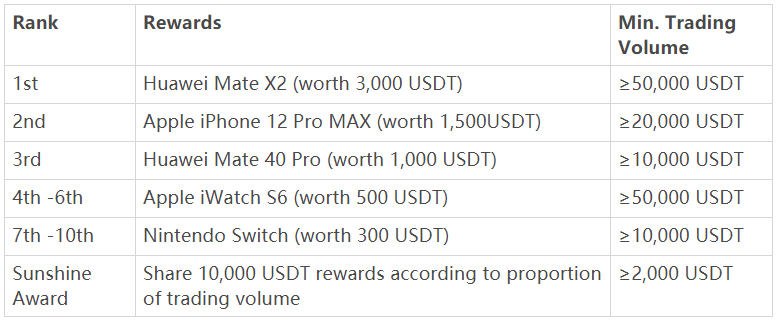 ii. Share Order Screenshot to Win Limited Airdrops
During the event duration, users with minimum trading volume of 200 USDT can share their order screenshot to our MXC ETF Community group chat on Telegram to win BTC3L airdrop worth 5 USDT. Users can submit their screenshot proof in the link provided below, limited to first 300 users only.
MXC ETF Community chat link: https://t.me/MXCETFCommunity
Submit your screenshot here: http://mxcfutures.mikecrm.com/FmBYSJx
Note:
Follow us on our socials:
Telegram: https://t.me/MXCEnglish
MXC trading: https://t.me/MXCtrade
Twitter: https://twitter.com/MXC_Exchange
Facebook: https://www.facebook.com/mxcexchangeofficial/
Discord: https://discord.gg/zu5drS8
Medium: https://medium.com/MXCExchange
Instagram: https://www.instagram.com/mxc.exchange/
Refer a friend to enjoy high rebate, create your personalized invitation link today:
https://www.mxc.la/invite/rebate
Enjoy trading on MXC
The MXC Team,
April 6, 2021