Dear users,
To meet the trading demand of various users, MEXC will launch TRX5L/5S & XTZ5L/5S leveraged ETFs at 08:00, August 21, 2021 (UTC). The details are as follows:
TRX5L - 5x leverage long for TRX
TRX5S - 5x leverage short for TRX
XTZ5L - 5x leverage long for XTZ
XTZ5S - 5x leverage short for XTZ
The daily management fee rate for TRX5L/5S, XTZ5L/5S shall be based on the fee rate indicated on the trading page.
Trading Contest for MEXC Users
Event period: 08:00, August 21, 2021 - 15:59, August 25, 2021 (UTC)
Leveraged ETFs for this activity: TRX5L、TRX5S、XTZ5L、XTZ5S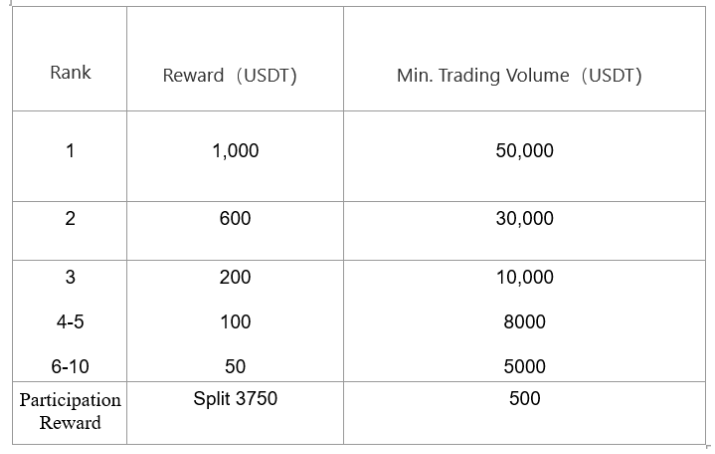 [Rules and rewards]:
During the event duration, the top users who trade selected leveraged ETFs of this activity with trading volume no less than the required minimum trading volume, can split 6,000 USDT prize pool.
Note:
Trading volume = Buys + Sells

The prize will be distributed to winner's account within 7 workdays. For the users who meet the activity requirements, please check the reward distribution in [Assets] - [Spot ] - [D/W History] - [Other Records]. If you encounter any problems related to the event, please add : Telegram- carol_6666.

Wash trading and any cheating conduct are prohibited. Otherwise, MEXC has the right to deprive the prize, even freeze the account.

MEXC reserves the final right to interpret.
Follow us :
Medium: https://medium.com/mexcglobal
Telegram: https://t.me/MEXCEnglish
MEXC trading: https://t.me/MEXCTradeofficial
Twitter: https://twitter.com/MEXC_Global
Facebook: https://www.facebook.com/mexcglobal
Discord: https://discord.gg/zu5drS8
Instagram:https://www.instagram.com/mexcglobal/
Refer a friend to enjoy high rebate, create your personalized invitation link today:
https://www.mxc.la/invite/rebate
As a digital asset trading platform that respects the community, MEXC adheres to the principle of truthful, transparent and fair trading, with no malicious intent. We are committed to provide users with a service that is safer, more efficient, and more reliable for the trading of digital assets.
Enjoy trading on MEXC.
The MEXC Team
August 21, 2021