Dear users,
The "Deposit and Trade to win 4500 THN!" has concluded successfully. Here are the winners of the Trading Contest: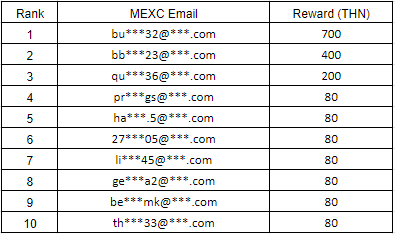 Due to a large number of participants, the full winner list for the Trading and Participation Rewards for THN will not be displayed. The rewards have been distributed. Please follow these steps to view your rewards (Visit [Assets] - [D/W History] - [Other record]).Congratulations to all the winners!
Thanks for your support.
For more information regarding the event, please refer to: MEXC Will List Throne (THN) - Deposit & Trade to win 4500 THN!
*Please note that:
1) Winners who have not completed the KYC before the event ends will not be eligible to receive the rewards.
2) MEXC reserves the right to disqualify users that are deemed to be wash trading, illegally bulk registered accounts, as well as trades that display attributes of self-dealing or market manipulation.
Follow us on our socials:
Medium: https://medium.com/mexcglobal
Telegram: https://t.me/MEXCEnglish
MEXC trading: https://t.me/MEXCTradeofficial
Twitter: https://twitter.com/MEXC_Global
Facebook: https://www.facebook.com/mexcglobal
Discord: https://discord.gg/zu5drS8
Instagram: https://www.instagram.com/mexcglobal
Refer a friend to enjoy high rebate, create your personalized invitation link today:
Enjoy trading on MEXC
The MEXC Team,
2021-09-30