Dear Users:
The 2nd session MEXC Launchpad is launching! Unique space for potential future, exclusively for MX holders. The project for this session is Genopets (GENE).
MEXC Launchpad provides users worldwide with a low-cost opportunity to invest early in project tokens. MEXC Launchpad, exclusively for MX Holders.
Participation link for GENE:
MEXC Launchpad:https://www.mexc.com/launchpads/assessment
Project Introduction
Genopets is a Free-to-Play, Move-to-Earn NFT game on Solana that makes it fun and profitable to live an active lifestyle. Genopets combines user's step data from their mobile device and wearables with blockchain Play-to-Earn economics so players can earn crypto for taking action in real life as they explore the Genoverse evolving and battling their Genopet.
Project Highlights
Genopets is pioneering a new category of gaming "Move-to-Earn" that combines the best parts of Free-to-Play mobile gaming with blockchain's Play-to-Earn.

Genopets is a revolutionary innovation that binds people's wellbeing to blockchain through gaming and NFTs. The platform connects a gamer's real-world steps with their progression, customization, and value creation in the Genopet universe.

Genopets has raised an $8.3 million seed round led by Konvoy Ventures and Pantera Capital. Notable angel investors from the crypto, gaming, and fitness world also participated.
Project Links
Project name: Genopets (GENE)
Official website: https://www.genopets.me/
Total Supply: 100,000,000 GENE
Twitter: https://twitter.com/genopets
Telegram: https://t.me/Genopets
Discord: https://discord.gg/genopets
Reddit: https://www.reddit.com/r/genopets/
Medium: https://medium.com/@genopets
Total Supply and Token Allocation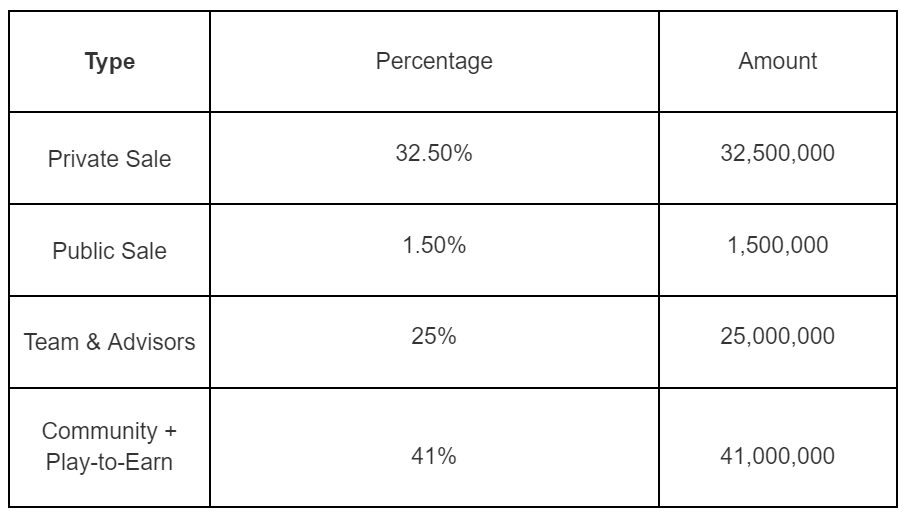 MEXC will list Genopets (GENE) in the Innovation Zone and open trading for the GENE/USDT trading pair. The specific timeline is shown below.
GENE/USDT Trading: 12:00, November 18 (UTC)
Launchpad Timeline for GENE
MX Position Snapshots
16:00, November 11 - 15:59, November 16 (UTC)
Note: The "Warming up" period will be used to explain the rules on participating in the MEXC Launchpad activity. During the holding period, MEXC will take snapshots at random moments over each day, users can increase their MX holdings to acquire more lots. At the same time, should a user decrease their MX holdings, it may decrease the amount of potential rewards.
Lucky Draw
In this session of MEXC Launchpad, a Lucky Draw format will be adopted. MEXC will count the MX tokens in your exchange account (both locked and available) to calculate the average daily MX position. The specific timings and details are as follows:
Lucky draw time: 8:00AM UTC on Nov. 17, 2021 to 7:59AM UTC on Nov. 18, 2021

Lucky draw result announcement: 10

:00AM UTC on Nov. 18, 2021

Asset Deduction Time: 11:00AM UTC on Nov. 18, 2021

The token price and quantity for this activity:
Token activity quantity: 250,000GENE
The sale price: 0.80 USDT
User's average lowest MX token holding amount is used to determine how many tickets a user can get. Snapshots will be taken randomly multiple times over each day. The details are below:
Token allocation per ticket: 250 GENE
Total number of tickets: 1000
How daily position is calculated: Daily average position = Sum on smallest positions held on X days/X days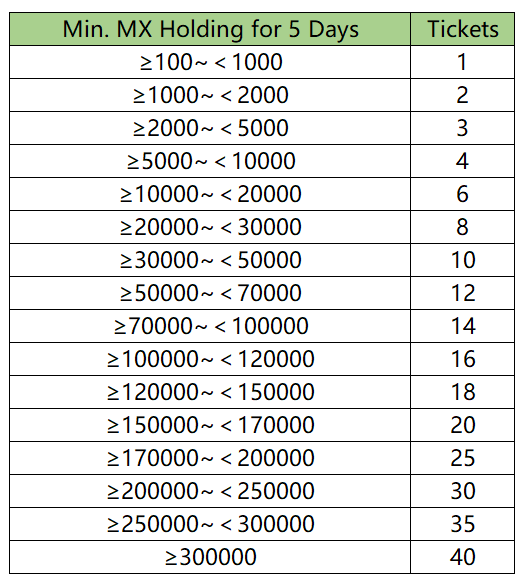 The process of Lucky draw:
Eligibility for draw:

This lucky draw will be set up based on a MX holding round. Users who hold MX for 5 days before the day of the draw (16:00 November 11 - 15:59 November 16 (UTC)) are able to win up to tickets if they meet the corresponding requirements.
Ticket-claim time:

8:00AM UTC on Nov. 17, 2021 to 7:59AM UTC on Nov. 18, 2021
Please note that the ticket number ranges from 00001 to 99999. Users can draw a number of tickets based on the draw order. Each user can get multiple tickets. The system will allocate based on the time of drawing, and each account will be allocated tickets based on the average lowest amount of MX holding in the 5 days.
Draw results

will be released at 10:00, November 18 (UTC). Participants can visit the MEXC Launchpad page to check if they are holding on to any winning tickets.
Settlement time

: MX will be used for the exchange of the GENE token that the participants have won. The system will deduct the MX from the winners' account at11

:00, November 18 2021 (UTC). Therefore, winners shall have enough MX balance (except the frozen MX) to exchange GENE tokens before the specified time. Otherwise, it will be deemed that the participant voluntarily forfeits participation rights.
The amount of MX to be deducted for MX Round= (Number of winning tickets *GENE*0.8USDT) / MX average price
The average price of MX will be the average closing price from November 12, based on the UTC+8 timezone, to November 16.
Draw method:

Users draw independently and win the lot randomly. After the user wins, the system will automatically complete the asset exchange. Click the "Draw" button to agree to the asset exchange.
How to participate:
Lucky draw - Register to participate in the lucky draw. If you win the tickets, the system will automatically deduct your assets and distribute tokens in accordance with the rules.
Join ticket-claim at:
MEXC Launchpad: https://www.mexc.com/launchpads/assessment
Terms & Conditions
To ensure the fairness of all participants, once the users have clicked and agreed to participate in the drawing, the corresponding MX tokens in the user's account will be frozen. The MX that is frozen during the event period will not be withdrawable or traded. Please participate at your own discretion.

Users must complete KYC to participate in this event.

MEXC reserves the right to interpret this event at our sole discretion.

The sale of tokens is not available to persons in the U.S. (as defined by Regulation S under the Securities Act of 1933), or to persons located in a sanctioned country as provided by OFAC.

Special Reward:

500 users who participated in this session of Launchpad will be selected at random to receive a 10 USDT Futures Bonus, the rewards shall be airdropped to the respective winners within 7 working days upon the completion of this event. (Note: Users must open their Futures Account before the event ends to be eligible to receive the Futures Bonus reward.)

The sale of tokens is not available to persons in the U.S. (as defined by Regulation S under the Securities Act of 1933), or to persons located in a sanctioned country as provided by OFAC.
Risk Warning
Cryptocurrency investment is subject to high market risk. Please make your investments cautiously. MEXC Global will make best efforts to choose high-quality tokens, but will not be responsible for your investment losses. As a digital asset trading platform that respects the community, MEXC adheres to the principle of truthful, transparent and fair trading, with no malicious intent. We are committed to providing users with a service that is safer, more efficient, and more reliable for the trading of digital assets.
The sale of tokens is not available to persons in the U.S. (as defined by Regulation S under the Securities Act of 1933), or to persons located in a sanctioned country as provided by OFAC.
Follow us on our socials:
Medium: https://medium.com/mexcglobal
Telegram: https://t.me/MEXCEnglish
MEXC trading: https://t.me/MEXCTradeofficial
Twitter: https://twitter.com/MEXC_Global
Facebook: https://www.facebook.com/mexcglobal
Discord: https://discord.gg/zu5drS8
Instagram: https://www.instagram.com/mexcglobal
Refer a friend to enjoy high rebate, create your personalized invitation link today:
Enjoy trading on MEXC
The MEXC Team,
8 November 2021