Dear Users:
Depend on users suggestions,MEXC Launchpad will upgrade the rules of Second Session of Launchpad .The project for this session is Genopets (GENE).
MEXC Launchpad provides users worldwide with a low-cost opportunity to invest early in project tokens. MEXC Launchpad, exclusively for MX Holders.
Participation link for GENE: MEXC Launchpad
Upgrade Ⅰ:Need only 100MX can participate this time:
During MX Position Snapshots period, when user's average lowest MX token holding amount is over 100MX, he/she can get ticket and take part in the Launchpad.
MX Position Snapshots :16:00, November 11 - 15:59, November 16 (UTC)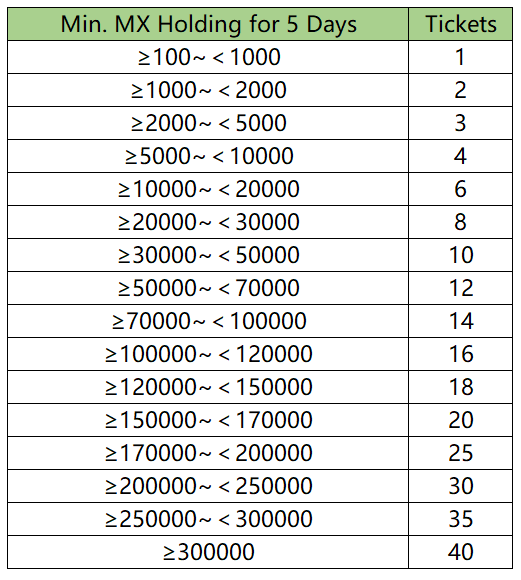 Upgrade Ⅱ:More allocation per ticket:
Token allocation per ticket now: 250 GENE
The token price and quantity for this activity:
Token activity quantity: 250,000GENE
The sale price: 0.80 USDT
User's average lowest MX token holding amount is used to determine how many tickets a user can get. Snapshots will be taken randomly multiple times over each day. The details are below:
Token allocation per ticket: 250 GENE
Total number of tickets: 1000
Project Introduction
Genopets is a Free-to-Play, Move-to-Earn NFT game on Solana that makes it fun and profitable to live an active lifestyle. Genopets combines user's step data from their mobile device and wearables with blockchain Play-to-Earn economics so players can earn crypto for taking action in real life as they explore the Genoverse evolving and battling their Genopet.
Time Schedule:
1. MX Position Snapshots: 16:00, November 11 - 15:59, November 16 (UTC)
2.Lucky draw time: 8:00AM UTC on Nov. 17, 2021 to 7:59AM UTC on Nov. 18, 2021(UTC)
3. Lucky draw result announcement: 10:00 Nov. 18 (UTC)
4. Asset Deduction Time: 11:00, Nov. 18 (UTC)
5. GENE/USDT Trading: 12:00, Nov. 18 (UTC)

More Details:MEXC Will Launch the Second Session of Launchpad with Genopets (GENE)
Risk Warning
Cryptocurrency investment is subject to high market risk. Please make your investments cautiously. MEXC Global will make best efforts to choose high-quality tokens, but will not be responsible for your investment losses. As a digital asset trading platform that respects the community, MEXC adheres to the principle of truthful, transparent and fair trading, with no malicious intent. We are committed to providing users with a service that is safer, more efficient, and more reliable for the trading of digital assets.
The sale of tokens is not available to persons in the U.S. (as defined by Regulation S under the Securities Act of 1933), or to persons located in a sanctioned country as provided by OFAC.
Follow us on our socials:
Medium: https://medium.com/mexcglobal
Telegram: https://t.me/MEXCEnglish
MEXC trading: https://t.me/MEXCTradeofficial
Twitter: https://twitter.com/MEXC_Global
Facebook: https://www.facebook.com/mexcglobal
Discord: https://discord.gg/zu5drS8
Instagram: https://www.instagram.com/mexcglobal
Refer a friend to enjoy high rebate, create your personalized invitation link today:
Enjoy trading on MEXC
The MEXC Team,
10 November 2021