Dear MXers and MEXC users,
MEXC held an MX Community Voting on MX Token 2.0 Proposals between December 4th to December 6th. (See more at MX Token 2.0: Exchange the World Again with MEXC!). The voting result is shown in the figure below: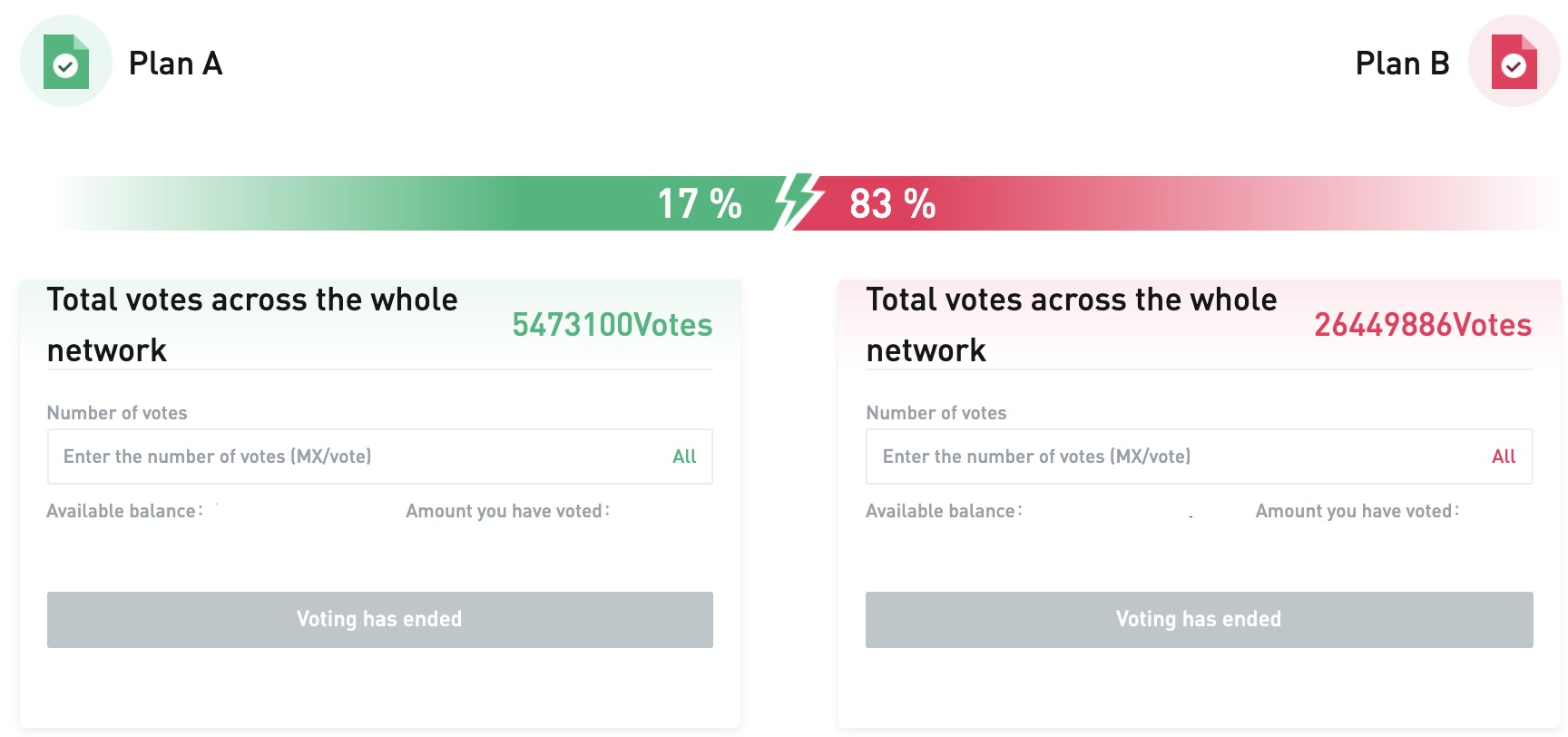 According to the voting result, 450 million MX Token of Foundation Reserve will be reallocated as Plan B. The details are shown as below:
Starting Time: January 2022
Details of the Plan:
1. New "Buy-Back and Burn" Program
MEXC will introduce a new "Buy-Back & Burn" Program. We will commit 40% of the MEXC platform profit to buy back and burn the MX Token from the market quarterly, with the goal of maintaining a circulating supply of MX Token at 100 million.
2. 450 Million MX Token Reallocation
① MEXC Foundation Reserve: 100,000,000 MX Token
MX Token will be allocated for Foundation Reserve for the purpose of growing and incentivizing the MEXC team. MEXC team is committed to building and developing MEXC for the long run. The MX Token granted to the MEXC team as part of the incentive plan will be following an 8-year vesting and quarterly release schedule.
② MEXC Labs: 150,000,000 MX Token
MX token will be used to set up MEXC Labs, which will be the investment arm of MEXC, dedicated to the investment in the blockchain industry for the long term as well as facilitating the growth of the MEXC ecosystem.
MEXC will gradually initiate MX DAO further to engage the MX community in the investment decision-making. MX Token holders will be able to participate in the referral, evaluation, and decision of investments in the future.
The MX community will also have various ways to benefit from the MEXC Labs investment. 40% of the investment tokens will be distributed to the MX Token holders in the form of Launchpool or other investment products. The above "Buy-back & Burn" program of 40% platform profit will also be applied in MEXC Labs.
③ MEXC Strategic Partnership: 100,000,000 MX Token
MX Token will be allocated to the top-tier global strategic partners in the future. The onboarding of the strategic partners will be voted by the MX community or announced publicly.
④ Immediate Burn: 100,000,000 MX Token
MX Token will be directly transferred to the black hole address and burnt permanently.
Please pay attention to follow-up announcements on the detailed plan.
Thank you again for your support!
The MEXC Team
6 December 2021