Dear user:
To celebrate the upcoming Christmas season, MEXC has prepared 10,000 USDT worth of Doge as rewards for a joyous Christmas. Invite your friends and earn bonuses together!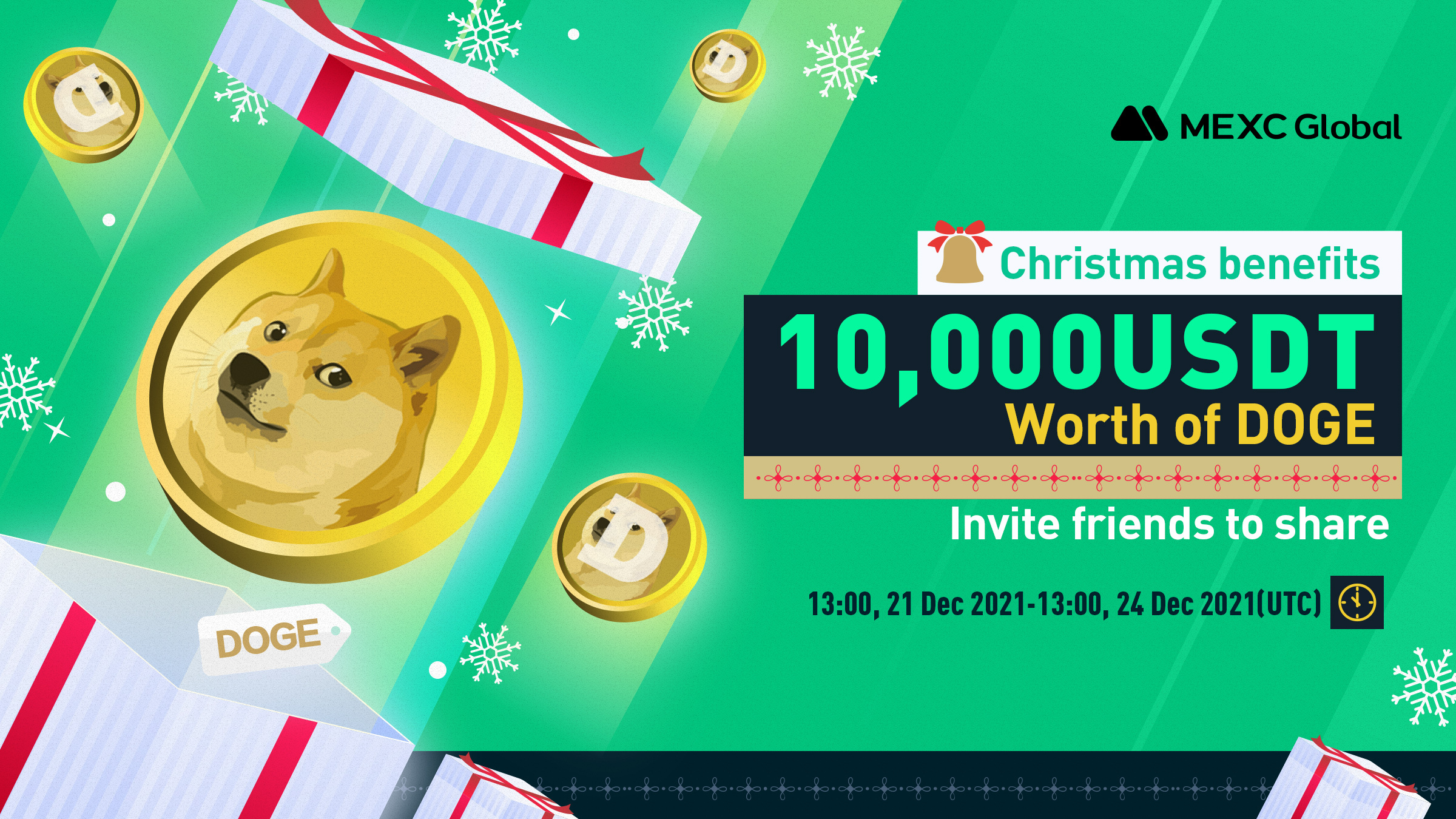 Event Period:2021-12-21 13:00 — 2021-12-24 13:00 (UTC)
Rule:
I. Invite friends to share a DOGE reward pool worth 3,700 USDT
Inviters can earn rewards by following these 3 steps (first-come-first-serve basis):
1. Fill in the form: >>Click<<;
2. Click here for your referral link to invite your friends.
3. Get 10 DOGE once your invitee completes registration and ID verification on MEXC.
The more your invitees, the more your rewards!
Each user can win a maximum inviter reward of 300 DOGE.

II. Trade to share DOGE reward pool worth 6,000 USDT
- Both inviters and invitees can win an extra bonus of 20 DOGE on a first-come first-served basis by completing any of the tasks below:
- Invitees: Trade at least 100 USDT worth of any tokens (on spot/futures markets)
- Each participant can win a maximum bonus of 500 DOGE.

III. Retweet the activity tweet and stand a chance to win 300 USDT worth of DOGE
- Retweet our activity tweet and attach your MEXC referral link. We will randomly select one participant on each day to give 100 USDT worth of DOGE for free!
Twitter:>> Click Here <<
Terms & conditions:
1.Participants are required to complete ID verification before the reward distribution.
2.The rewards will be distributed to users' Exchange accounts within 7 working days after the activity ends.
3.Get your friends to register using your referral link to be rewarded.
4.MEXC reserves the right to determine the final outcome of the activity and disqualify participants if any fraudulent behaviors are found.
Find us on:
Medium: https://medium.com/mexcglobal
Telegram: https://t.me/MEXCEnglish
MEXC trading: https://t.me/MEXCTradeofficial
Twitter: https://twitter.com/MEXC_Global
Facebook: https://www.facebook.com/mexcglobal
Discord: https://discord.gg/zu5drS8
Instagram: https://www.instagram.com/mexcglobal/
Refer a friend to enjoy a high rebate, create your personalized invitation link today: https://www.mexc.com/invite
Enjoy trading on MEXC.
The MEXC Team
21 December 2021