It's Christmas time! In order to show our gratitude to our users for choosing us, MEXC will launch "Heartwarming Christmas with MEXC, join to share 10,000USDT bonus easily!" event.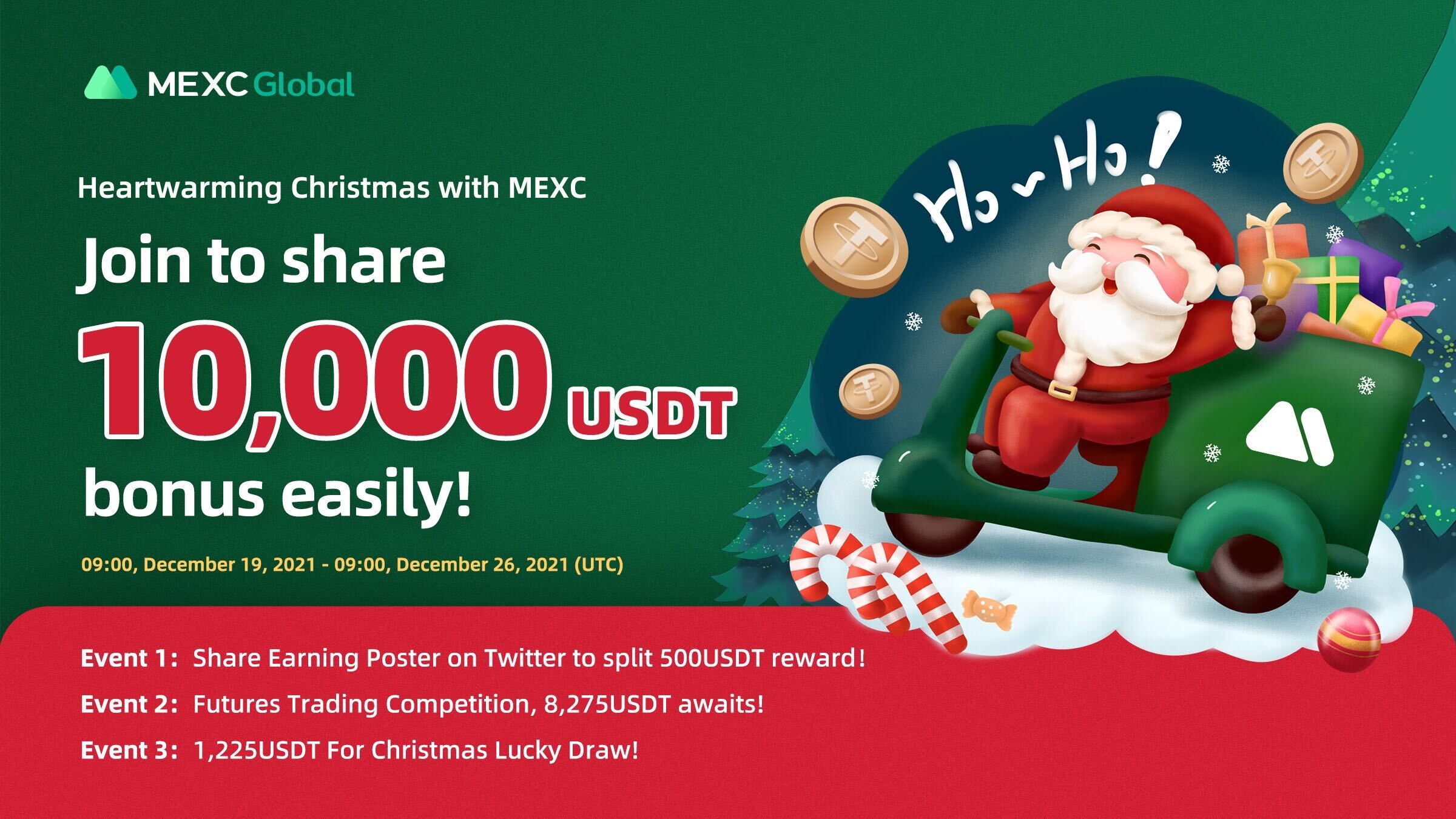 Event Time: 09:00, December 19, 2021 - 09:00, December 26, 2021 (UTC)
Registration link: https://forms.gle/pSKZJuunCfPB2gYv7

Event 1:Share Earning Poster on Twitter to split 500USDT reward!
Upload your Futures' earning poster to Twitter with a Christmas greeting, tag 3 friends and tell us your UID, hashtag #MEXChohoho #MEXCFutures


50 winners will be selected randomly and get 10USDT bonus each!

Event 2:USDT-M Futures Trading Competition, 8,275USDT awaits!

During the event period, top 50 users who trade ≥ 20,000USDT on USDT-M Futures & have the highest accumulate trading volume get reward as below:
Christmas Futures Trading Leaderboard Reward
Ranking
Reward (Futures Bonus)

1st

2,500u

2nd

1,200u

3rd

500u

4th

200u

5th-10th

100u

11th-50th

Split 3,275USDT based on trading volume ranking, however, the maximum reward for each user is no more than 100USDT
Trading Volume = Open Trade + Close Trade during the event period (including unrealized profit/loss or closed trades)
Event 3: 1,225USDT For Christmas Lucky Draw!
Lucky Draw Entries: if the last 5 digits of UID match the MEXC BTC futures price at 10am (UTC) on December 25th, you can win 1,225USDT!
Ex: Price of MEXC BTC futures price at the mentioned time is 55123.45, and then, the lucky UID which will be rewarded 1,225USDT is **12345.

Event Notes:
1. This is an ongoing event from 09:00, December 19, 2021 - 09:00, December 26, 2021 (UTC). Users who register to the link above during the event period will be considered as a participant.
2. The total prize pool for this event is 10,000USDT, rewards for this event will be sent out automatically within 5 working days.
3. MEXC reserves the final interpretation of this event at our sole discretion.
4. MEXC reserves the right to disqualify any participants that are involved in wash trading or any behavior that is considered cheating. MEXC has the right to remove the prize from said users, or even freeze the account.
Follow us:
Medium: https://medium.com/mexcglobal
Telegram: https://t.me/mexcfutures
https://t.me/MEXCTradeofficial
Twitter: https://twitter.com/MEXCDerivatives
https://twitter.com/MEXC_Global
Facebook: https://www.facebook.com/mexcglobal
Discord: https://discord.gg/zu5drS8
Instagram: https://www.instagram.com/mexcglobal/
Refer a friend to enjoy high rebate, create your personalized invitation link today:
Enjoy trading on MEXC.
The MEXC Team
19 Dec 2021