Dear users:

To celebrate the Christmas season, MEXC has specially arranged Christmas events, with rewards worth over $600,000!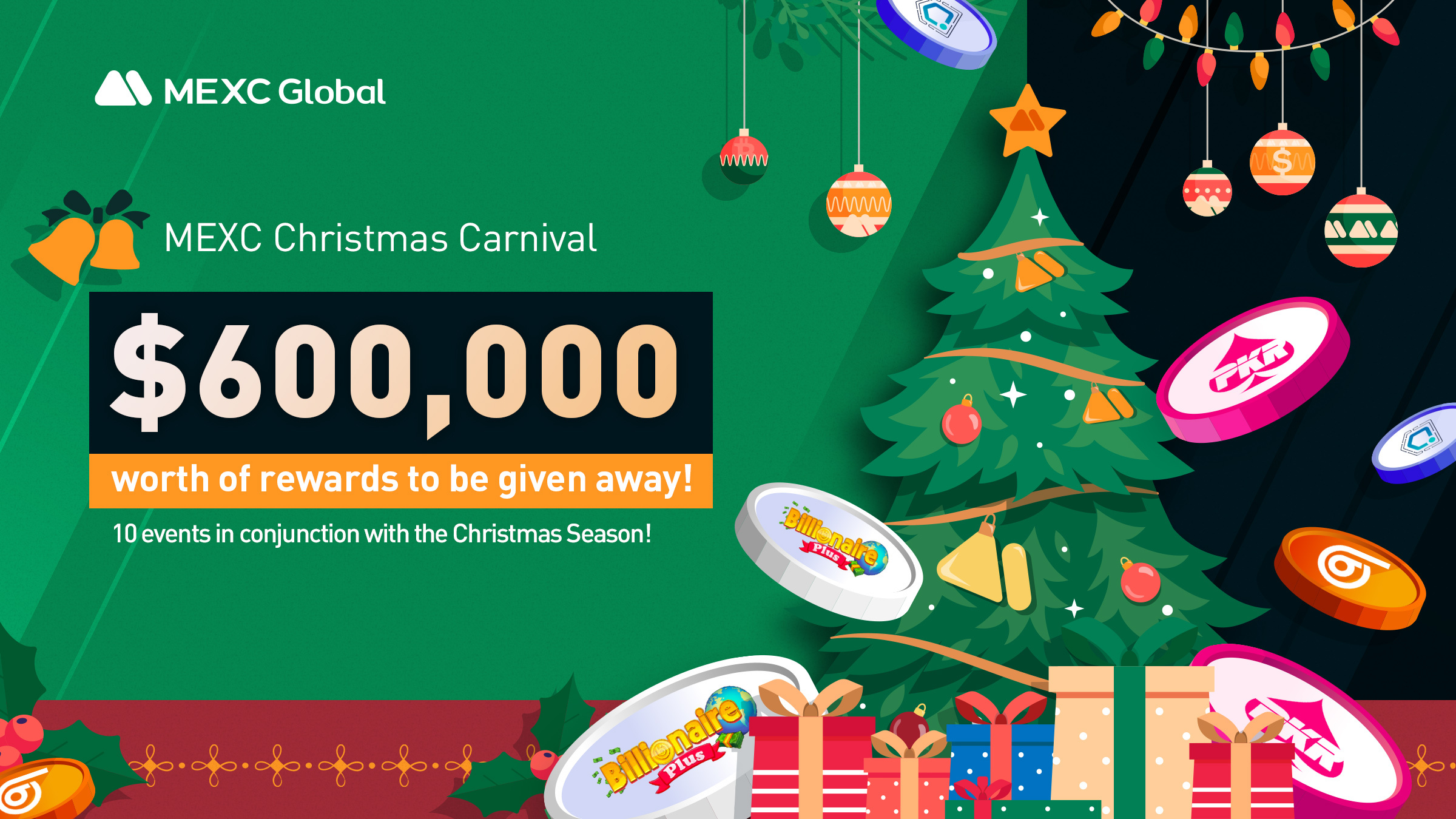 I. Kickstarter:Voting for Christmas Airdrops.
Christmas airdrops: BPLUS/PKR/CVR/BBANK/HSF/BTL/BITCI/DRV.
Get free coins daily, 400,000 USDT prizes up for grabs! Learn more >>
II. Trade & Hold to Win 10,000 USDT in MX and Massive Futures Bonuses
MEXC is now offering a massive prize pool of 10,000 USDT in MX and 7,500 USDT Futures Bonus just for you!
Event Time: 2021-12-23 13:00 - 2021-12-27 13:00 (UTC) Learn more >>
III. Christmas benefits: Refer friends to share a DOGE reward pool worth 10,000 USDT
Invite friends to earn some DOGE. The more you invite, the more you earn! Learn more >>

IV. Heartwarming Christmas with MEXC, join to easily share a 10,000 USDT bonus!
Three simple events, three wonderful prize pools!
Event Time: 2021-12-19 09:00 - 2021-12-26 09:00 (UTC) Learn more >>
V. ETF Christmas Festival! Grab a 50,000 USDT Bonus & Amazing Rewards Now!
Trade and hold a position in ETF products and stand a chance to win rewards & amazing gifts. Learn more >>
VI. MEXC Christmas Specials: Deposit FreeRossDAO (FREE) to Share 3,000 MX Giveaway
Christmas Magic is in the air! To celebrate the coming Christmas season, MEXC is pleased to hold FreeRossDAO (FREE) deposit event, there are a total of 3,000 MX up for grabs! Learn more >>
Merry X-Mas Giveaway:
Twitter: 500 $MX & 500 $USDT giveaway
Facebook: 200 $MX & 500 $USDT giveaway
Instagram: 200 $MX & 500 $USDT giveaway

MEXC Christmas Celebration - Red Envelope
Follow MEXC's English Group & Channel and get free Red Envelopes! Be sure to pay attention as the early birds get the MX! Join now >>

Benefits for Vietnamese Users:
MEXC CHÚC MỪNG NĂM MỚI 2022 - HOÀN LẠI 30% PHÍ GIAO DỊCH - TỔNG GIẢI THƯỞNG: 15.000 USDT Learn more >>

Benefits for Korean Users:
MEXC 사용자들을 위한 크리스마스 이벤트 Learn more >>
Risk Warning
Cryptocurrency investment is subject to high market risk. Please make your investments cautiously. MEXC Global will make the best efforts to choose high-quality tokens, but will not be responsible for your investment losses. As a digital asset trading platform that respects the community, MEXC adheres to the principle of truthful, transparent and fair trading, with no malicious intent. We are committed to providing users with a service that is safer, more efficient, and more reliable for the trading of digital assets.
Follow us :
Medium: https://medium.com/mexcglobal
Telegram: https://t.me/MEXCETFCommunity
https://t.me/MEXCTradeofficial
Twitter: https://twitter.com/MEXCDerivatives
https://twitter.com/MEXC_Global
Facebook: https://www.facebook.com/mexcglobal
Discord: https://discord.gg/zu5drS8
Instagram: https://www.instagram.com/mexcglobal/
Refer a friend to enjoy high rebate, create your personalized invitation link today:
https://www.mxc.la/invite/rebate
Enjoy trading on MEXC.
The MEXC Team
22 December 2021