Dear MEXC users,
To thanks for your support, MEXC will launch an OTC Christmas Carnival for all MEXC users.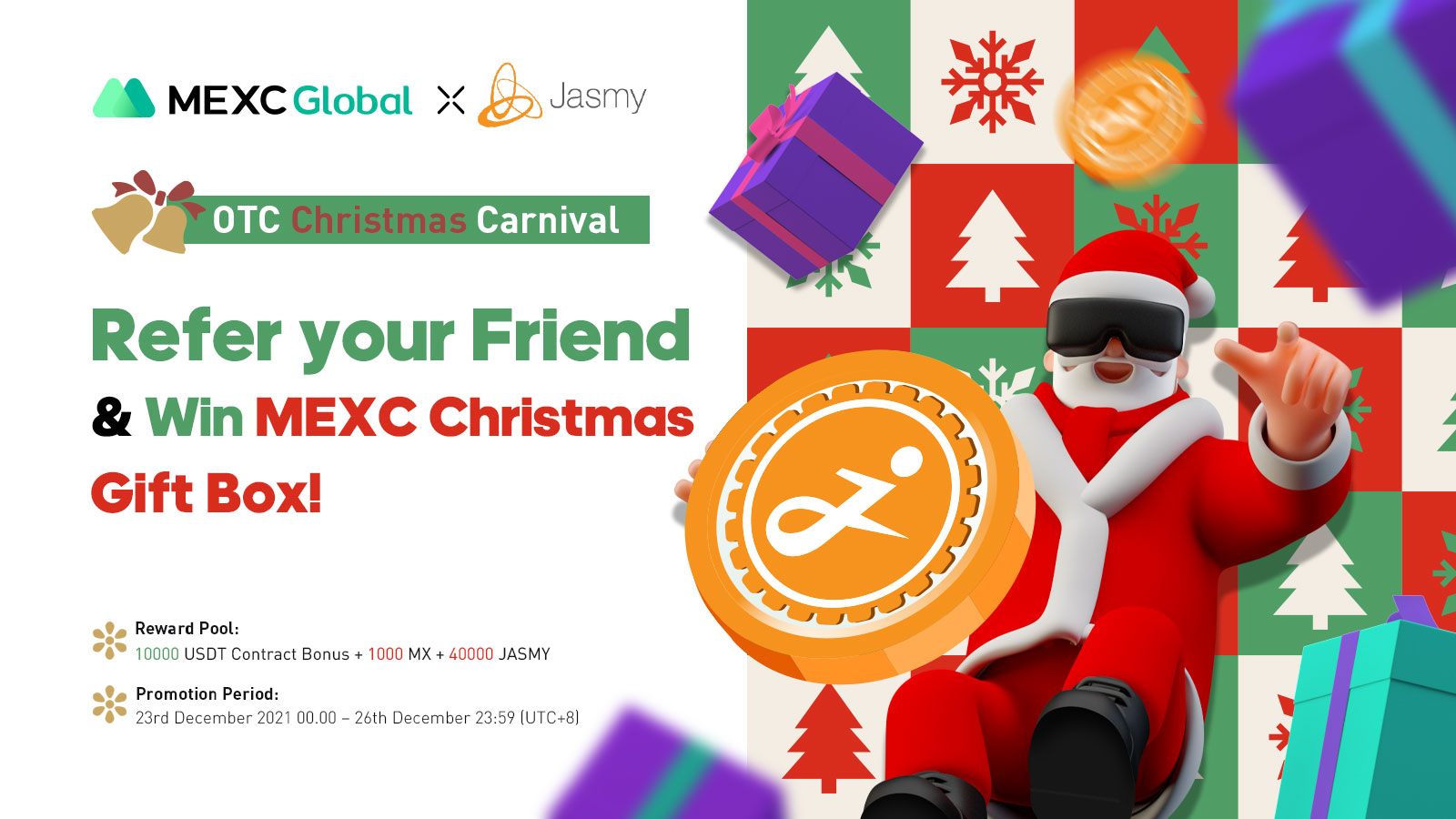 Promotion Period: 23rd December 2021 0000 – 26th December 2021 2359 (UTC +8)
Promotion Details:
Reward = Refer your friend to Buy 100 USDT or above in a single P2P order via MEXC P2P platform, to Win MEXC Xmas Gift Box.
Each MEXC Xmas Gift box contains
10 USDT Contract Bonus.
Random airdrop of MX & JASMY from a prize pool of 1000 MX & 40000 JASMY.
(Maximum airdrop up to 100 USDT per gift box!)
How to participate?
Step 1: Refer your friend to Buy 100 USDT or above in a single P2P order via MEXC P2P
Step 2: Fill in OTC Christmas Carnival Registration form to participate.
That's it.
Note: Please fill in a New registration form for Every user you refer.
Terms & Conditions:
Total reward limited to first 1000 participants, on first-come-first-serve basis.
If user A & user B both refer the same users, then the first user who submit the registration form will be the Winner.
If your referral user trade multiple times on P2P, only the first trade will be counted.
USDT Contract Bonus can be used to trade Derivatives at MEXC.com. USDT Contract Bonus cannot be withdrawn yet Profit earned from trading Derivatives using USDT Contract Bonus can be withdrawn.
This reward is only applicable to Deposit through P2P trading; and excluded users from China region.
The reward will be distributed to participant's MEXC Swap & Spot account wallet within 5 days after this promotion end, by 31st December 2021 (UTC +8).
MEXC reserves the right to disqualify any participants showing signs of fraudulent behaviour immediately.
MEXC reserves the right at any time in its sole and absolute discretion to determine and/or amend or vary these terms and conditions without prior notice, including but not limited to cancelling, extending, terminating or suspending this Promotion, the eligibility terms and criteria, the selection and number of winners, and the timing of any act to be done, and all Participants shall be bound by these amendments.
Note 2:
-- If this is your first-time trading on P2P, please refer to our P2P Trading Tutorial & P2P Trading FAQ to learn how to trade P2P.

-- If you have any inquiry, feels free to contact us through our OTC Telegram: https://t.me/MEXCOTC.
-- If you are interested to become our merchant, please check out our P2P merchant recruitment announcement.
Thank you for your support!
Happy Trading on MEXC,
MEXC Team
23rd December, 2021.