Dear users,
The GARI Network (GARI) project will be soon listed on the MEXC M-Day platform, providing users worldwide with a low-cost opportunity to invest early in project tokens.
Project Brief Introduction
GARI is Empowering Short Video Content Creators With Social Tokens. The GARI Token offers Chingari App users a gateway to the blockchain space. The goal is to empower both creators and viewers on the Chingari App with technological tools to interact directly with each other and allow all users on the Chingari App to participate in the long-term direction of the social economy impacting the GARI Token.
The GARI Token is interconnected with the Chingari App, opening to Chingari App users a wider blockchain world where they directly control their assets and can use their tokens to connect and transact with their counterparties, place governance votes, and catalyze platform engagement and user base growth.
GARI Token Sale Details:
Token Name: GARI Network (GARI)
Total Token Supply: ​​1,000,000,000 GARI
Total Tokens Allocated to MEXC M-Day: 1,000,000 GARI
Public Sale Token Price: 1 GARI = 0.2 USDT
Eligibility Criteria to Participate:
Term 1: Trading Round
Users who trade the specific cryptos (Spot & ETF & Margin) on MEXC for 3 days (from 2022-01-15 07:00 to 2022-01-18 07:00 UTC) prior to the end of the ticket-claim time with trading volumes no less than the minimum amount specified in the form below will be eligible for the lucky draw. The larger the trading volume, the more tickets the user can claim.
The eligible tokens for Trading Round are (including Spot & ETF & Margin):
MX, BTC, ETH, EOS, BCH, LTC, TRX, XRP, BSV, ETC, ADA, DASH, NEO, LINK, QTUM, DOT, VET, XLM, XTZ, ZEC, SNT, JST, OMG, ATOM, VSYS, ONG, AE, BTS, RVN, WOO, ARPA, MINA, ORN, PINK, QUICK, FORM, EPK, BZZ, SKILL, BORING, C98, ALICE, LUNA, RUNE, AAVE, SNX, FTT, CAKE, SLP, SUSHI, AGLD, EDEN, ATLAS, AVXL, BABY, BANANA, CW, DXL, DYDX, GEL, LZ, MAKI, PHM, POLIS, QRDO, REI, RIN, SBR, SUNNY, SWP, THEOS, USDP, WEMIX, WNCH, XCAD, YAG, LARIX, PRT, ORCA, BEAM, DERI, SYN, BRIGHT, MCASH, PAC, GRO, YAY, UFO, VOX, SPELL, PKEX, SRP, GDC, MRFI, RBN, MOOV, FLOKI, TFI, HCT, DSG, INSTA, VEX, KOL, BIN, KWT, OHM, UM, STARL, MDF, AAA, OPUL, STRP, FODL, GEMG, NFS, MOVD, DFI, MAT, ADS, SIN, MONI, BNPL, EVRY, SSV, ZHT, GOLD, BHO, REF, UFARM, BDX, CELT, NINJA, SPS, WARENA, PLUT, CKB, HT, IRIS, DCR, BNB, ZRX, ALPACA, IOTX, AXS, TRIBE, YGG, UST, RAY, RIF, WNCG, OCT, CHESS, FLOW, RARI, TOKAU, BETA, KISHU, BNX, OKB, CTSI, RACA, NU, BIT, KLAY, ATA, AUDIO, MASK, CELO, SOS, GLMR, GOLDFINCH, WTF, LOOKS, CEEK, PIT, ZIG, HAM, BABYDOGE, SHIB, LUFFY, BEZOGE, MANA, SAFEMOON, SAITAMA, GDO, CSPR
Ticket Information:
A total number of winning tickets: 2,000

Each winning ticket includes: 200 GARI
The details are shown in the form below: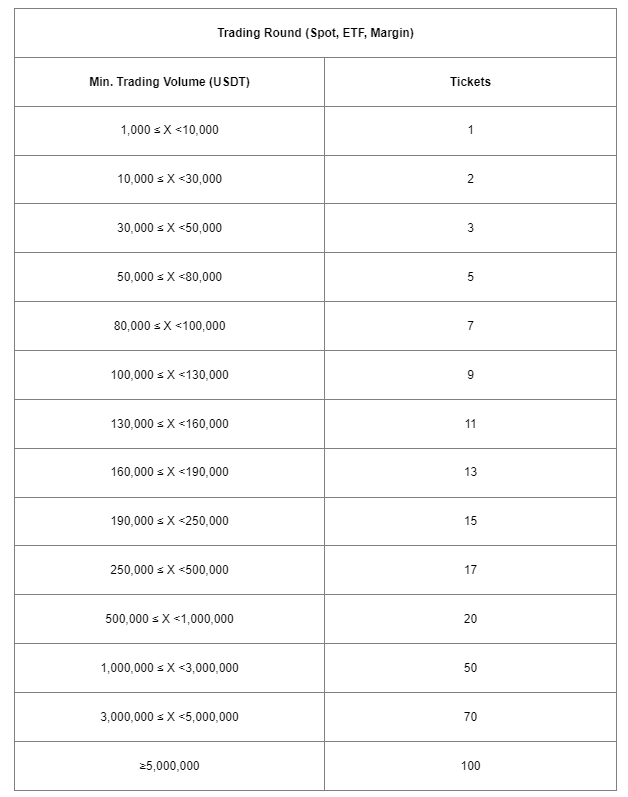 Term 2: MX Holding Round
During the ticket claim time, MX holders with a holding amount no less than the minimum amount specified in the form below will be eligible for the lucky draw. The larger the holding amount, the more tickets the user can claim.
Ticket Information:
A total number of winning tickets: 2,500

Each winning ticket includes: 200 GARI
The details are shown in the form below: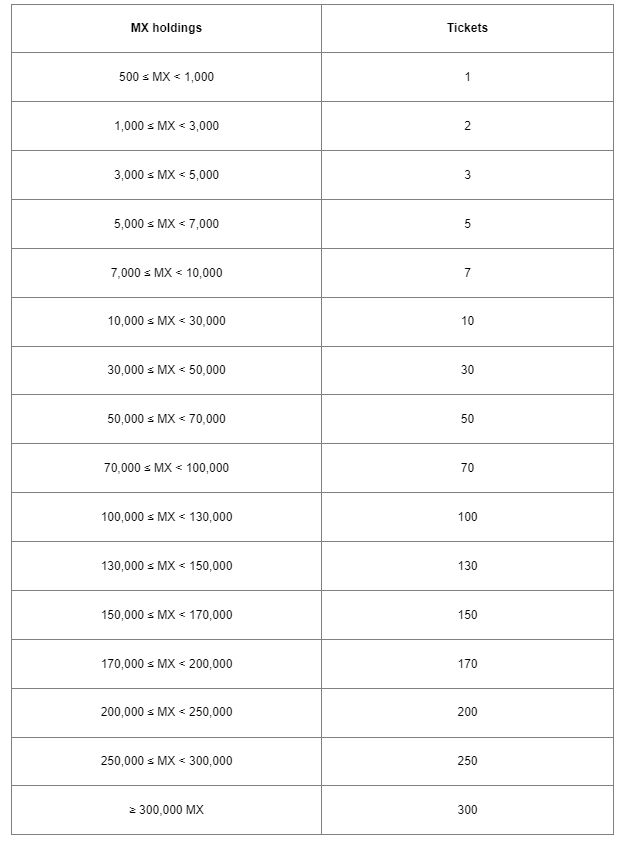 The Process of Lucky draw
Ticket-claim time:

2022-01-17 14:00 - 2022-01-18 07:00 (UTC)
Please note that the ticket number ranges from 00001 to 99999. Users can draw a number of tickets based on the draw order. Each user can get multiple tickets. The system will allocate based on the time of drawing, and each account will be allocated tickets based on the MX Position and trading volumes.
Draw results will be released at 09:00 on Jan 18 (UTC). Participants can visit the MEXC M-Day page to check if they are holding on to any winning tickets.

Settlement time: MX will be used for the exchange of the GARI tokens that participants have won.

The system will deduct the MX from the winners' accounts at 11:00 on Jan 18 (UTC). Therefore, winners shall have enough MX balance (except the frozen MX) to exchange GARI tokens before the specified time. Otherwise, it will be deemed that the participant voluntarily forfeits participation rights.
The amount of MX to be deducted= (Number of winning tickets *GARI*0.2USDT) / MX average price
The average price of MX will be the average closing price from January 15, based on the UTC+8 time zone, to January 17.
Draw method: Users draw independently and win the lot randomly. After the user wins, the system will automatically complete the asset exchange.
Note:
In order to ensure the fairness of the activity, after the user claims the ticket, the MX used for the draw will be frozen until the end of the draw. During the freezing period, users cannot trade or withdraw MX.

The holdings considered in this session will be limited to the assets available in your spot asset account, excluding assets that may be pending or frozen.

Terms 1 and 2 are alternatives on an either-or basis, i.e. if a user meets any one of the term's criteria, he/she will be eligible to claim the lottery tickets.

Ticket Claims can only be done once per term (1 for Major Cryptos Round, 1 for MX Holding Round). Please make sure you have hit your desired trading volume before claiming your tickets for each round. Trading volume accumulated after claiming your tickets will not reward additional tickets.

During the deduction, users who have insufficient MX balances in their spot wallet will have their participation deemed forfeited.
Participation prize: Users who did not receive any winning tickets from the draw will still be able to claim from the participation prize pool of remaining sales tokens in proportion to the number of losing tickets in possession respectively.
Extra Benefit: All eligible participants of the GARI M-Day Lucky-Draw Event will receive a 10 USDT Futures Bonus.
(Please note that users must open their Futures account before the rewards are sent out, otherwise you may not be able to claim it. For Futures bonus guide click here)
Note: Users are required to complete KYC verification in order to join the ticket claim.
Project Info
(The information below is provided by the project party, strictly for reference only.)
Project Name: GARI Network (GARI)
Official Website: https://gari.network/
Blockchain Explorer: TBD
Twitter : https://twitter.com/GariToken
Facebook : https://www.facebook.com/garitoken/
Instagram : https://www.instagram.com/gari.network/
Discord : http://Discord.gg/garitoken
Telegram: https://t.me/garitokenofficial
Medium: https://medium.com/@gari.network
Listing Information
Initial Listing time: 2022-01-18 13:00 (UTC)
Trading pair: GARI/USDT in the Innovation Zone
Risk Warning
Cryptocurrency investment is subject to high market risk. Please make your investments cautiously. MEXC Global will make best efforts to choose high-quality tokens, but will not be responsible for your investment losses. As a digital asset trading platform that respects the community, MEXC adheres to the principle of truthful, transparent, and fair trading, with no malicious intent. We are committed to providing users with a service that is safer, more efficient, and more reliable for the trading of digital assets.
Find us on:
Medium: https://medium.com/mexcglobal
Telegram: https://t.me/MEXCEnglish
MEXC trading: https://t.me/MEXCTradeofficial
Twitter: https://twitter.com/MEXC_Global
Facebook: https://www.facebook.com/mexcglobal
Discord: https://discord.gg/zu5drS8
Instagram: https://www.instagram.com/mexcglobal/
Refer a friend to enjoy a high rebate; create your personalized invitation link today: https://www.MEXC.com/invite
Buy USDT Instantly here: https://otc.mexc.com/
Enjoy trading on MEXC.
The MEXC team
14 January 2022