In order to develop the crypto community and look for affiliates who share the same values and mission with MEXC, we have launched the MEXC Affiliate Program (Apply Now). In this program, you can create a unique and exclusive referral link that can be shared with anyone who is interested in crypto trading. By clicking the referral link and completing the registration, they can become your referral. You can get commissions from the trades completed by the invitees (MEXC spot, Futures or ETF trading).
1. Benefits of MEXC Affiliate
Super High Rebate - Enjoy up to 50% referral rebate on commissions;

High Bonus - Eligible MEXC Affiliates will receive airdrop bonus incentives monthly;

Nomination Rights - Opportunity to recommend investment projects or listing projects to MEXC;

Exclusive Activities - Opportunity to get Mday/Launchpad tokens from time to time;

VIP Service - 24/7, one-to-one service from professional customer managers;

Permanent Rebate - Enjoy a permanent rebate period.
2. Responsibilities
Support and promote various MEXC activities at least twice a month;

Help MEXC gain traffic and guide new users to register and trade on MEXC;

Actively promote the MEXC brand, maintain the MEXC brand image, and help users solve general inquiries.
3. How to join the MEXC affiliate program?
At present, interested YouTube video bloggers, cryptocurrency community leaders, KOLs, industry influencers, media authors and other content creators can fill in the form on MEXC's affiliate program website to apply. The specific process is as follows:
Step One: Click affiliates.mexc.com, click "Apply" in the upper right corner to enter the affiliate application page;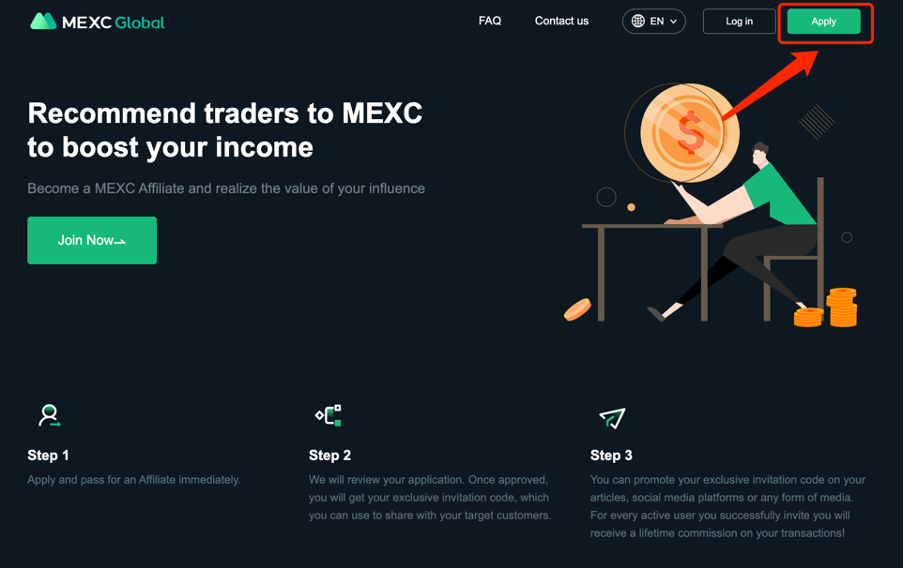 Step Two: Fill in the forms;
Fill in your name, affiliate account email address (can be different from your MEXC account), affiliate account password (can be different from your MEXC account), country of your location

Fill in your personal community or social media account information, as well as your personal contact information.

Fill in the UID of your MEXC account, you need to have a MEXC account before applying to a MEXC affiliate. You can find your UID in the "Profile" after logging in to your MEXC account.
Email Verification, please submit the email verification code to finish your application.
Step Three: After your registration is successful, the MEXC team will conduct a review within three days. After the review is passed, an official MEXC account manager will contact you.
Recently, there have been a lot of encryption scams. Click here to check whether the person is an official MEXC employee:https://www.mexc.com/official-verify
4. How to use MEXC affiliate account?
After becoming a MEXC affiliate, you can use your own invitation link to invite friends to earn transaction rebates. In addition, you can create and manage invitation links on the agency page, and track the invitation details by configuring different invitation links.
First step, click affiliates.mexc.com to log in to the MEXC affiliate account and jump to the affiliate backend page;
Second step, page introduction
Invitation link creation area
In this area, you can create different events and create your own invitation code for the activity. Please note that the invitation code you entered may also be used by others, please check carefully to verify whether your exclusive link is successfully created.
Below you can shorten the created active link to generate a shorter URL.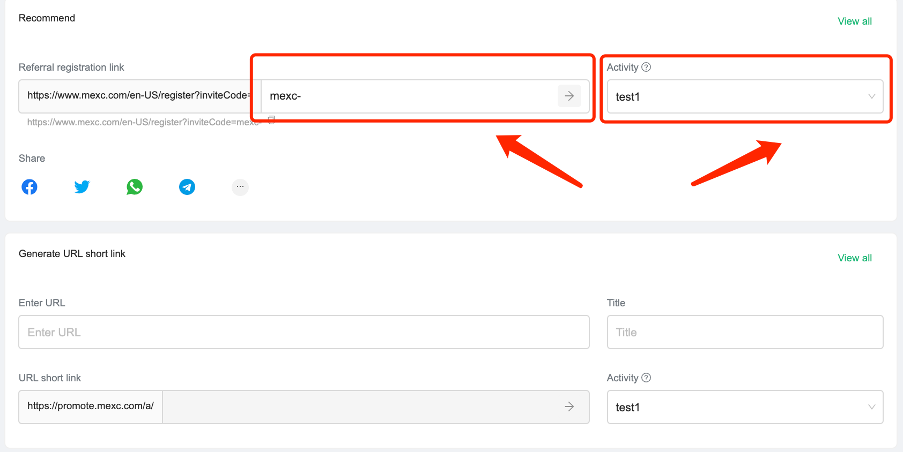 In addition, you can click "Activity" on the left menu bar where you can find the activity, the exclusive invitation link, the corresponding number of sign-ups, deposit and your rebates.

Withdraw the rebates from the affiliate account
You can view the rebates available to be withdrawn and the historical withdrawal records of your rebates in your affiliate account at the top right of the page. After clicking on the "withdraw" button, you can withdraw the rebates to your MEXC spot account.
MEXC will release the spot rebates of the previous day at 08:30 (UTC) every day, and the futures rebates of the previous day at 09:30 (UTC) every day.
Please note that to ensure the security of your funds, you need to bind the Google verification code of the affiliate account before you make any withdrawal. You can bind the Google verification code under the "Account Security" tab of your affiliate account.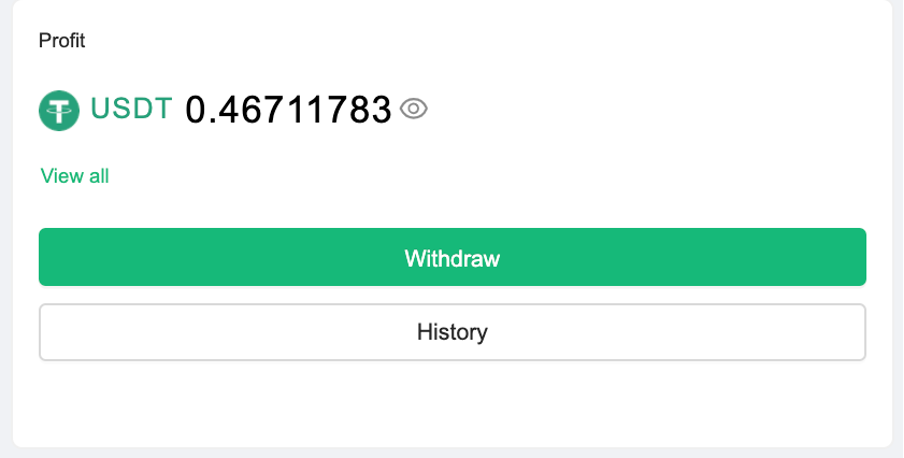 Your Rebate Rate
You can find your direct customer rebate ratio and sub-affiliate rebate ratio here. If you have any questions, please contact your dedicated account manager.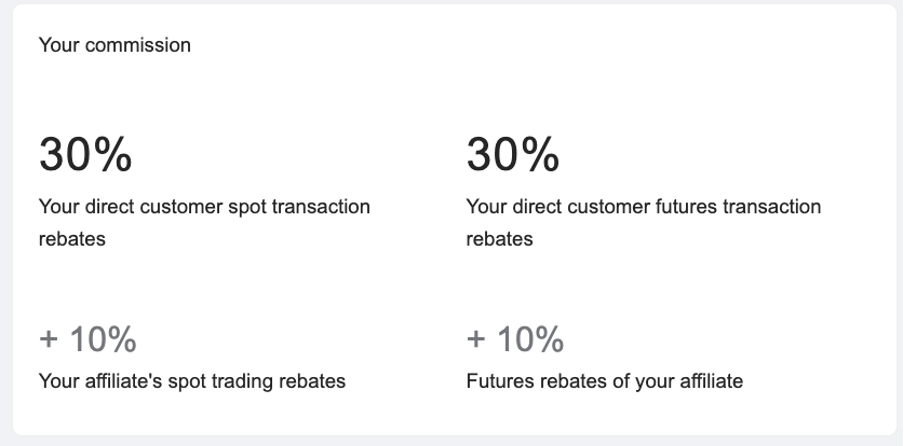 Invitation statistics
In this area, you can select a specific time period to see a summary of the users you invited during that time period, as well as the accumulative rebates generated.

At the same time, you can find the trend of daily data below this section.
5. Detailed Data
You can click "Direct Customer", "Sub-Affiliate" and "Commission Rebate" on the left menu bar to view the detailed rebate condition of the invitees.


5. Existing MEXC Affiliates
Existing MEXC Affiliates can successfully activate your affiliate accounts at the affiliate website (affiliates.mexc.com) through [Log in] -> [Forget Password] -> [Verify your MEXC account Email & Reset password]. The specific process is as follows:
Step One: Enter affiliates.mexc.com, click "Log in" in the upper right corner;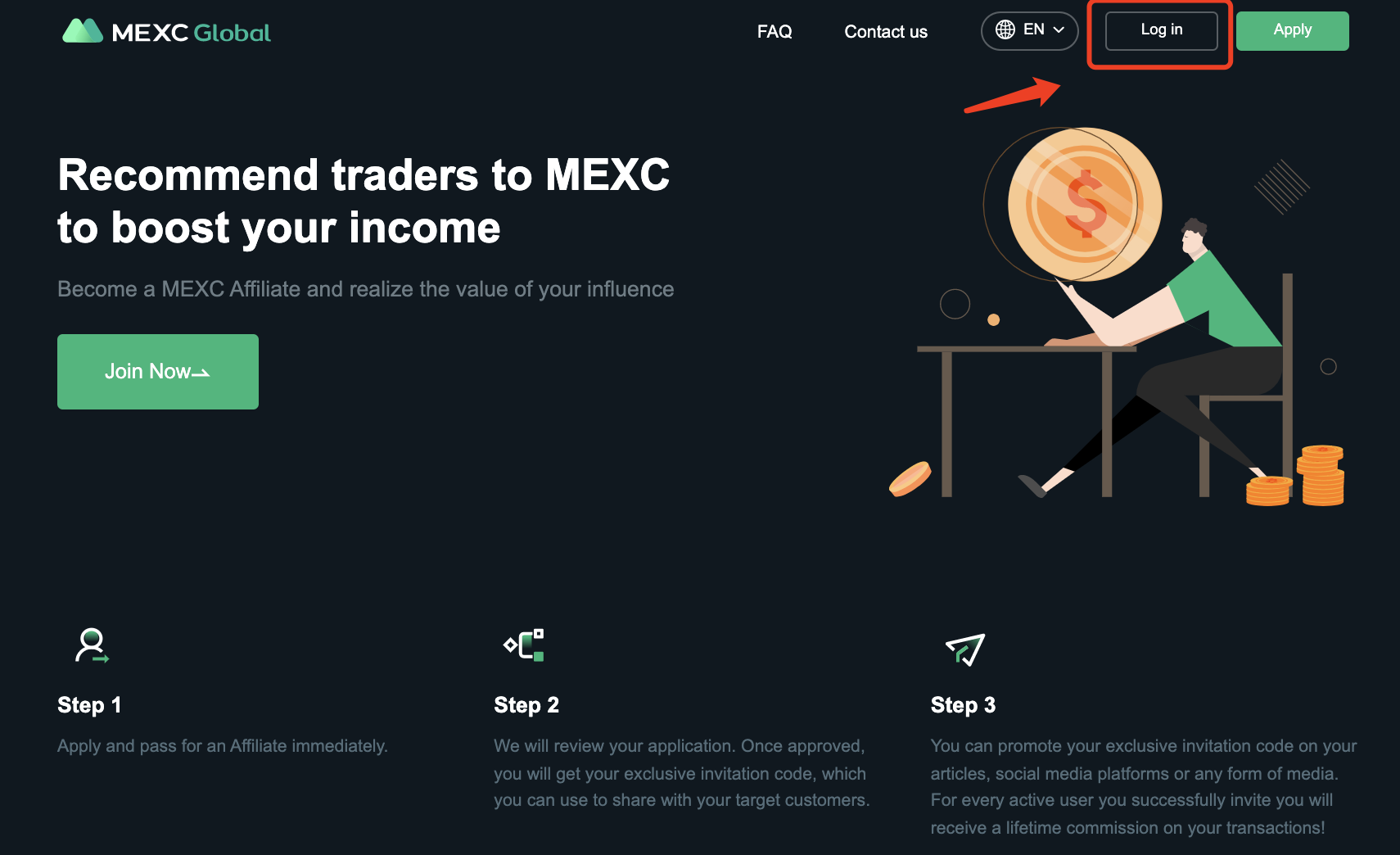 Step Two: Click "Forget Password" to reset the password;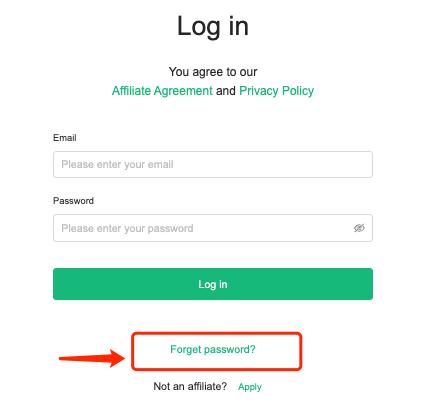 Step Three: Enter your MEXC account email address and reset the password by verifying the email.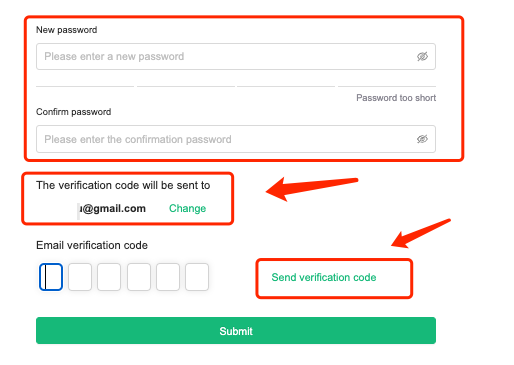 Step Four: After submitting the reset password, you can log in to your affiliate account directly.
Notice:
After your account is activated, your commissions for direct customer and sub-affiliate transactions will be calculated by the affiliate system, and the invitation commission prior to your affiliate account's activation is not counted.
The cumulative calculated commissions shown in the overview of the dashboard are all commissions received after your affiliate account is activated and exclude the invitation commission prior to the account's activation.
In addition, existing MEXC Affiliates can also contact your dedicated account manager or directly get in touch with the official account manager directly at the affiliate website under the "Contact Us" tab to inquiry more about the new affiliate system and the MEXC Affiliate Program.
Affiliate Program FAQ:https://affiliates.mexc.com/faq
Apply to be an affiliate now:https://affiliates.mexc.com/apply