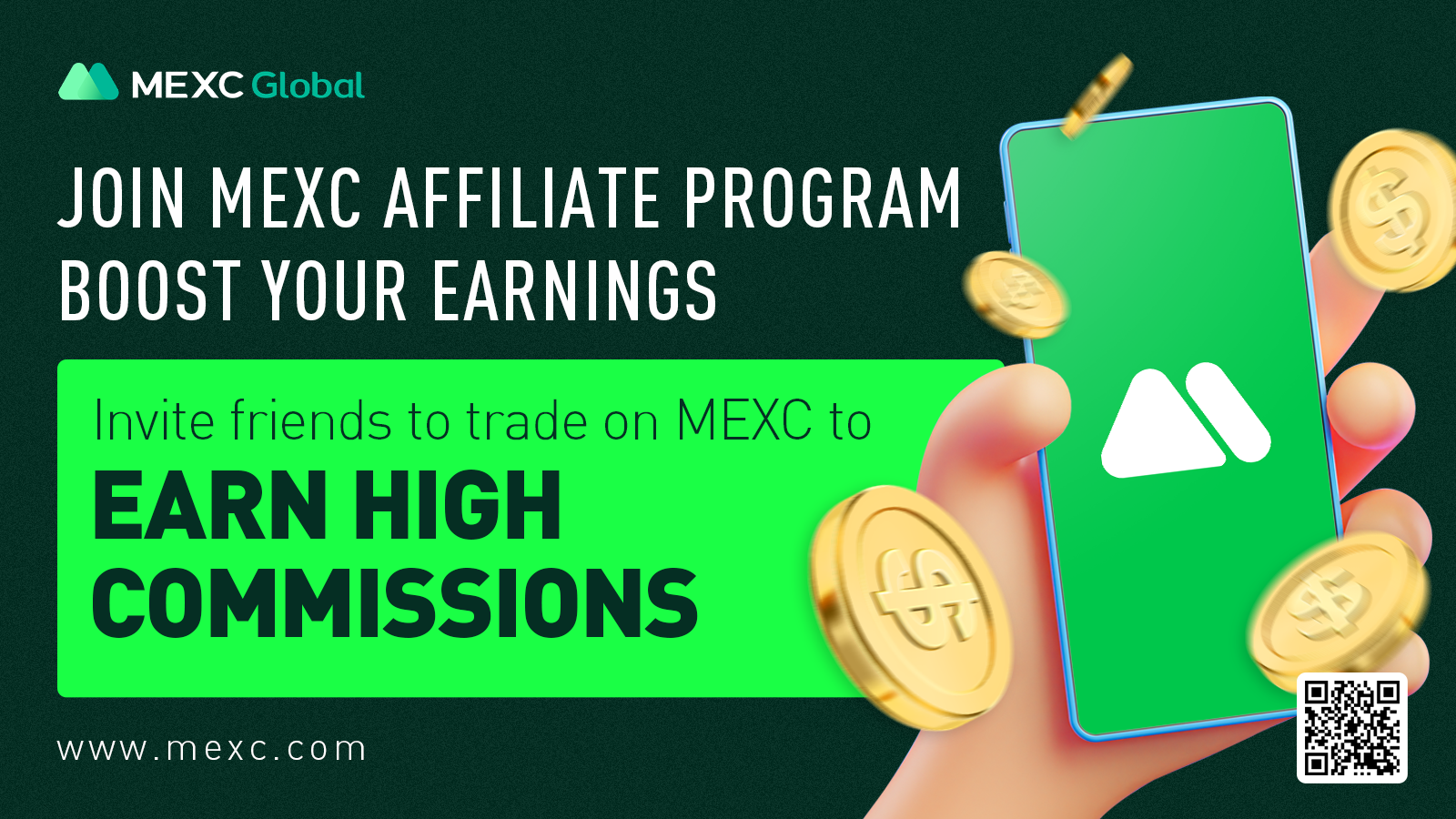 Dear users:
In order to develop the crypto community and look for affiliates who share the same values and mission with MEXC, we have launched the MEXC Affiliate Program (Apply Now). In this program, you can create a unique and exclusive referral link that can be shared with anyone who is interested in crypto trading. By clicking the referral link and completing the registration, they can become your referral. You can get commissions from the trades completed by the invitees. (MEXC spot, Futures or ETF)
1. Benefits
Super High Rebate - Enjoy up to 55% referral rebate on commissions and sub-affiliate rebate;

High Bonus - Eligible MEXC Affiliates will receive airdrop bonus incentives monthly;

Nomination Rights - Opportunity to recommend investment projects or listing projects to MEXC;

Exclusive Activities - Opportunity to get Mday/Launchpad tokens from time to time;

VIP Service - 24/7, one-to-one service from professional customer managers;

Permanent Rebate - Enjoy a permanent rebate period.
2. Responsibilities
Support and promote various MEXC activities at least twice a month;

Help MEXC gain traffic and guide new users to register and trade on MEXC;

Actively promote the MEXC brand, maintain the MEXC brand image, and help users solve general inquiries.
3. Who can join the MEXC Affiliate Program
YouTube video bloggers, cryptocurrency community leaders, KOLs, industry influencers, media authors, and other content creators who are willing to promote MEXC (Require a minimum following of 500 people)

Crypto-related market websites, encryption tool websites, industry media websites, and other crypto-related websites;

Promotional agency or organization, etc.
4. Rebate Rules
Affiliate Rebate (Processed Daily)
| | |
| --- | --- |
| Tier | Rebate Rate |
| Master | 55% |
| Diamond | 50% |
| Platinum | 45% |
Within three days after the submission of your application (Apply Now), our team will contact you and provide you with a detailed rebate plan. You can also contact the official account manager directly via "Contact Us" on the affiliate website. Note: The 10% trading fee rebate will be returned to the invited user by default, that is, the invited user can enjoy a 10% discount on the actual handling fee.
Sub-affiliate Rebate
Affiliates can invite new affiliates and get an extra 10% commission from their sub-affiliates referral network
Affiliate Tier Adjustment Plan
MEXC will conduct an assessment of the affiliates on a quarterly basis, and the assessment will have a direct impact on the affiliate's tier.
5. How to join MEXC Affiliate Program
Step 1: Become a MEXC Affiliate
Go to the MEXC affiliate website (affiliates.mexc.com), apply for the MEXC affiliate program (you need to have a MEXC account and UID first), our team will review and get in touch with you within three days. You can also get in touch with the official account manager directly through the "Contact Us" section of the website.
Step 2: Promote your exclusive link
You can create and manage your exclusive invitation link on the MEXC affiliate page. You can also configure personalized promotion links to suit different channels.
Step 3: Earn rebates easily
As long as a user registers a MEXC account through your promotion link, you can get up to 55% commission rebate after the user completes a transaction. At the same time, if you recommend your friends to become an affiliate, you can get another additional 10% sub-affiliate rebate;
If you still have further inquiries: Click here to view the usage guide
6. Terms of Service
The spot rebate for the previous date will be issued at 08:30 (UTC) daily, and the futures rebate for the previous date will be issued at 09:30 (UTC) daily.

There is no limit to the number of people an affiliate can invite.

Illegal operations that hijack official traffic or cause users to be at risk of phishing will result in loss of the affiliate privilege. (Including but not limited to redirecting the content that is highly similar to MEXC's official social media accounts, website, or placing the ads that are relevant to MEXC through search engines, etc.)

MEXC reserves the right to adjust, change or cancel the affiliate rebate rules without prior notice.
7. Existing MEXC Affiliates
Existing MEXC Affiliates can successfully activate your affiliate accounts at the affiliate website (affiliates.mexc.com) through [Log in] -> [Forget Password] -> [Verify your MEXC account Email & Reset password]. For more details, please refer to the usage guide.
In addition, existing MEXC Affiliates can also contact your dedicated account manager or directly get in touch with the official account manager at the affiliate website under the "Contact Us" tab to inquiry more about the new affiliate system and the MEXC Affiliate Program.
Affiliate Program FAQ:https://affiliates.mexc.com/faq
Apply to be an affiliate now:https://affiliates.mexc.com/apply
Find us on:
Medium: https://medium.com/mexcglobal
Telegram: https://t.me/MEXCEnglish
MEXC trading: https://t.me/MEXCTradeofficial
Twitter: https://twitter.com/MEXC_Global | https://twitter.com/MEXC_Fans
Facebook: https://www.facebook.com/mexcglobal
Discord: https://discord.gg/zu5drS8
Instagram: https://www.instagram.com/mexcglobal/
Enjoy trading on MEXC!
The MEXC team
21 January 2022