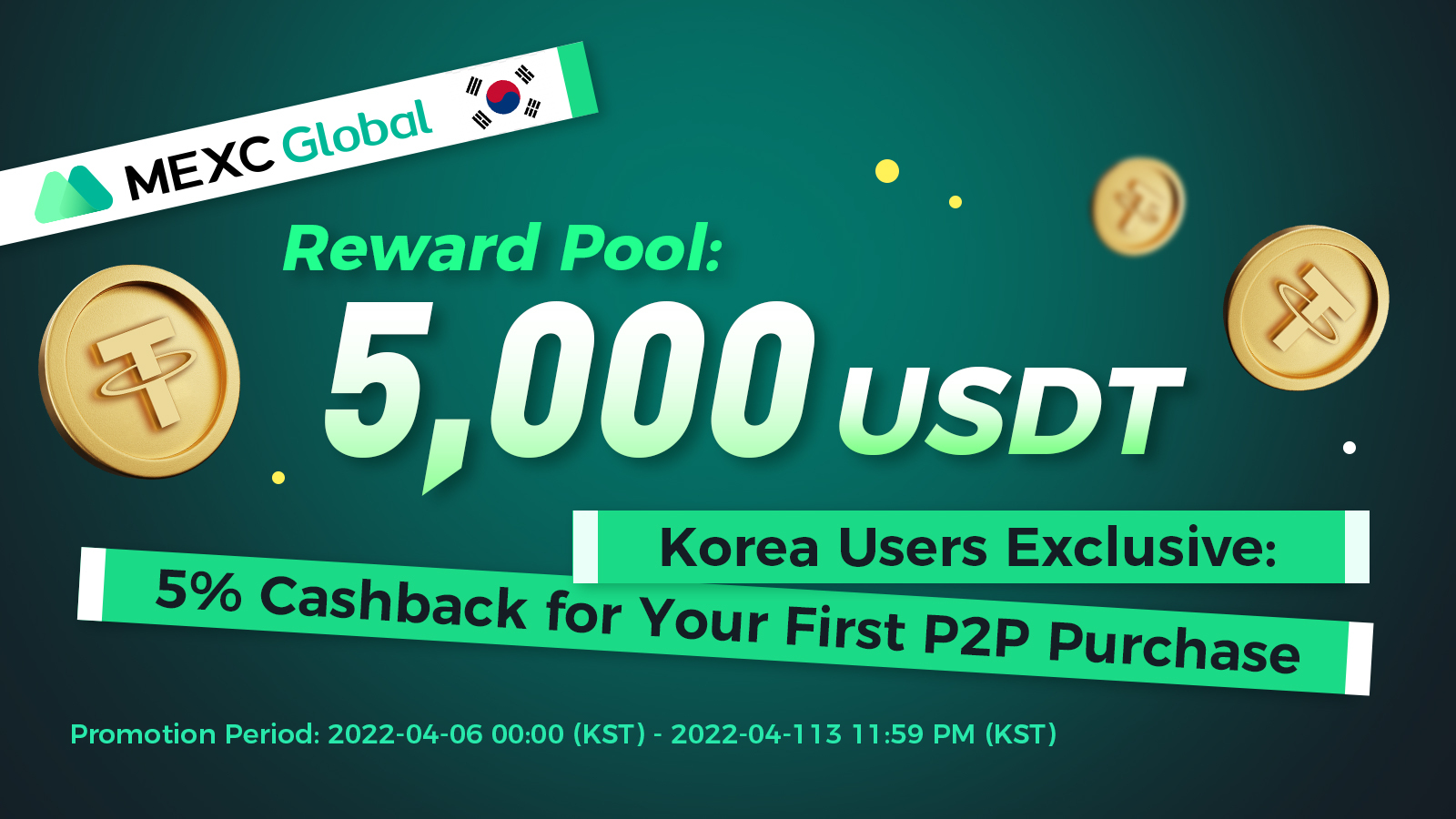 MEXC P2P Platform is launching a promotion for Korea users to Won a prize pool of 5,000 USDT for their First P2P Purchase.
Promotion period: 2022-04-06 00:00 (KST) - 2022-04-13 11:59 PM (KST)
Promotion Details:
-- Each participant will be rewarded 5% of their 1st Purchase of USDT through MEXC P2P Platform, on purchase of 500 USDT or above; capped at 200 USDT for each user.
Example 1: You purchase 3000 USDT, then we will cashback 150 USDT to you.
Example 2: You purchase 8000 USDT, then we will cashback 200 USDT to you (Capped at 200 USDT for each user).
-- Total prize up to 5,000 USDT. First come first serve basic; reward valid only while prize last.
How to participate?
Step 1: Complete your identity verification
Step 2: Make your first USDT purchase of 500 USDT and above via MEXC P2P
Step 3: Joined MEXC Korea Telegram group: https://t.me/MEXCKorean
That's it.
Terms & Conditions:
The promotion only applies to users who have been verified as Korea residents.
The promotion only applies to users; NOT including P2P merchants or other advertisers.
Each user is entitled to only one reward during the promotion period.
Any USDT that are withdrawal right away, after purchase will be seem as fraudulent behaviour and will not counted for this promotion.
The reward will be distributed to the corresponding MEXC account within 5 days after this promotion ends (by 18th April 2022).
MEXC reserves the right to disqualify any participants showing signs of fraudulent behaviour immediately.
MEXC reserves the right at any time in its sole and absolute discretion to determine and/or amend or vary these terms and conditions without prior notice, including but not limited to cancelling, extending, terminating or suspending this Promotion, the eligibility terms and criteria, the selection and number of winners, and the timing of any act to be done, and all Participants shall be bound by these amendments.
Note:
-- If this is your first-time trading on P2P, please refer to our P2P Trading Tutorial & P2P Trading FAQ to learn how to trade P2P.

For P2P Trading Tutorial in Korea Language, click here.

-- If you have any inquiry, feels free to contact us through our OTC Telegram: https://t.me/MEXCOTC.
-- We are inviting more Korea users to become our P2P Merchant; if you are interested, please check out our P2P merchant recruitment announcement.
Thanks for your support!
The MEXC Team
April 6th, 2022