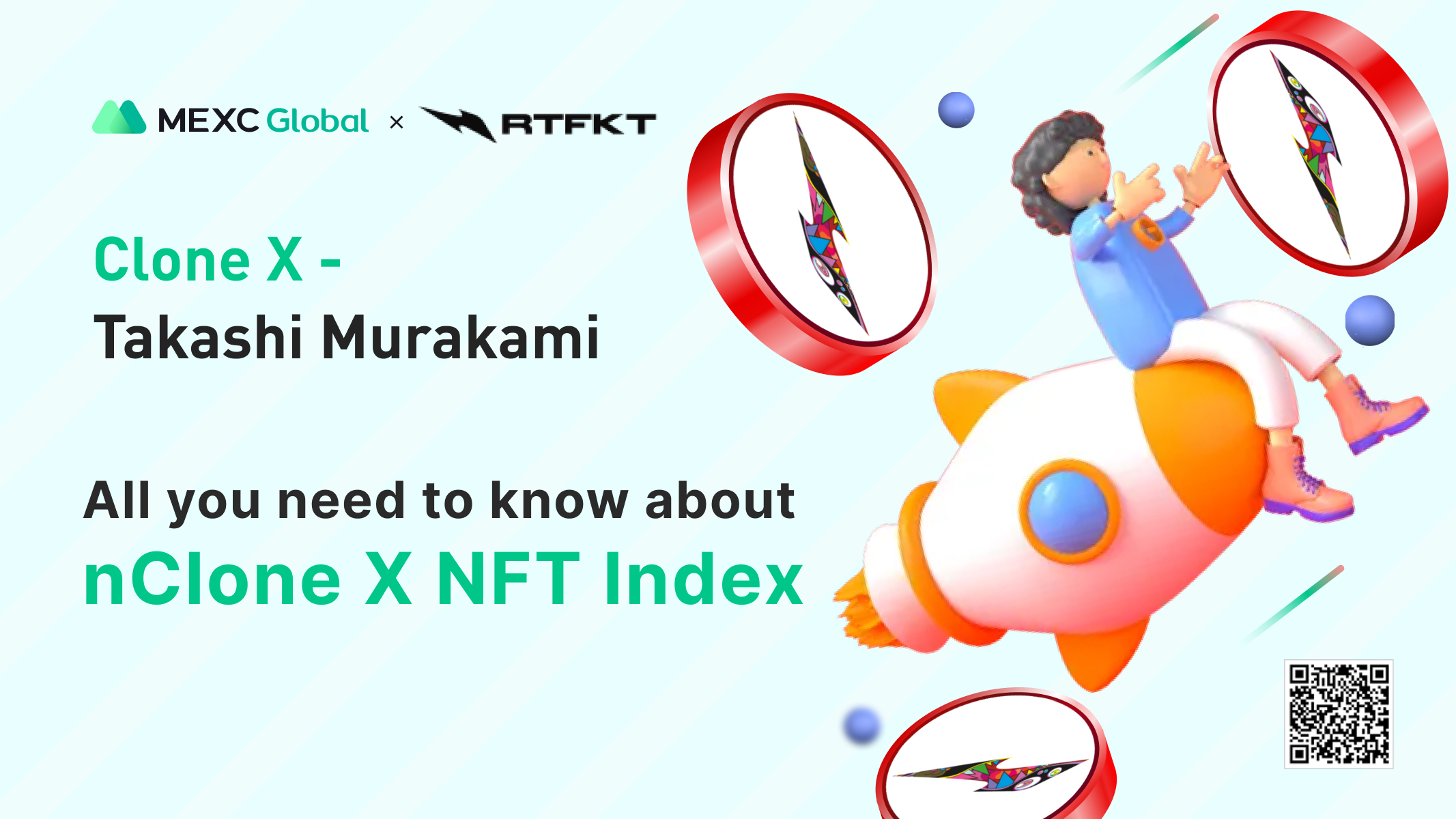 Question 1:
What is the nClone X index?
nClone X index refers to an asset basket that consists of 5 Clone X NFTs which are worth 20 ETH each. The index provides users an opportunity to trade high-quality blue-chips NFTs at a low-cost. Users can exchange their index holdings for one of the 5 Clone X NFTs if they own a big enough proportion of the index.
Token name: nClone X
Trading pair:NCLONEX/USDT
Listing time:2022-4-8 11:00 (UTC)
Max Supply:5,000,000 NCLONEX(Derived from an NFT asset basket consisting of 5 Clone X NFTs worth 20 ETH each, the approximate total net worth of the index is 308,750 USDT at the time of publishing this announcement).
Initial Starting Price:0.01 USDT
Question 2:
The Value of nClone X
Increased Liquidity: Lower barrier to entry to high-value NFTs
Due to the high unit price of these NFTs, the threshold for users to own a blue-chips NFT is high. By holding the nClone X index, users can subscribe to a part of the value of the underlying blue-chip NFT. Users who hold 1,000,000 units of nClone X can decide to exchange their holdings for a "CLONE X - X TAKASHI MURAKAMI NFT" through the weekly open "redemption window" (Rarity will be ranked from N to SSR).
Enjoy the Same Benefits:
Users enjoy the same benefits if any airdrop rewards are being offered to holders of the actual NFT. Holders of nClone X are entitled to such rewards and the distribution amount for each holder will be based on their respective holding position. For example, Bored Ape Yacht Club's Apecoin DAO airdropped millions of Apecoins to BAYC and MAYC NFTs owners.
Value-added Returns:
If the floor price of the NFT rises significantly, users who bought into the NFT Index and satisfy the requirement to redeem 1 of the 5 NFTs in the asset basket can leverage their income by swapping their Index holdings for a full NFT which can be traded on Opensea.
Question 3:
How to redeem CLONE X - X TAKASHI MURAKAMI NFT
Participate in nClone X trading

Users are eligible to redeem an actual

CLONE X - X TAKASHI MURAKAMI

NFT with a holding position of 1,000,000 nClone X.

Redemption Cycle:Once a week

Redemption Sequence:Depending on the rarity of each NFTs, the lower rarity NFT will be swapped first, example as below:
CloneX #11861

rank:17945

CloneX #12155

rank:15393

CloneX #3638

rank:13508

CloneX #16364

rank:11955

CloneX #14106 rank:3874
Question 4:
What is nClone X NFT Asset Basket?
nClone X Asset Basket Address:0x4fFCD92bDE2124eB750Ed9BFce9f611f4D7Adde9
Users may access this link to check the corresponding NFTs' details.
**NFT Supply Guarantee:
There will always be 5 Clone X NFTs in nClone X NFT Asset Basket. If 1 NFT is withdrawn. nClone X Index will automatically buy back 1 NFT from the collection, to ensure price consistency of the index.