Dear users:
MEXC will list Decentral Games ICE (ICE) in the Assessment Zone and open trading for the ICE/USDT trading pair. The specific timeline is shown below.
Deposit & Withdrawal: Opened
ICE/USDT Trading: 2022-07-02 05:00 (UTC)
ICE/USDC Trading: 2022-07-02 06:30 (UTC)
Note: Prices may fluctuate greatly for projects listed in the Assessment Zone, please be cautious and be aware of hidden risks of delisting.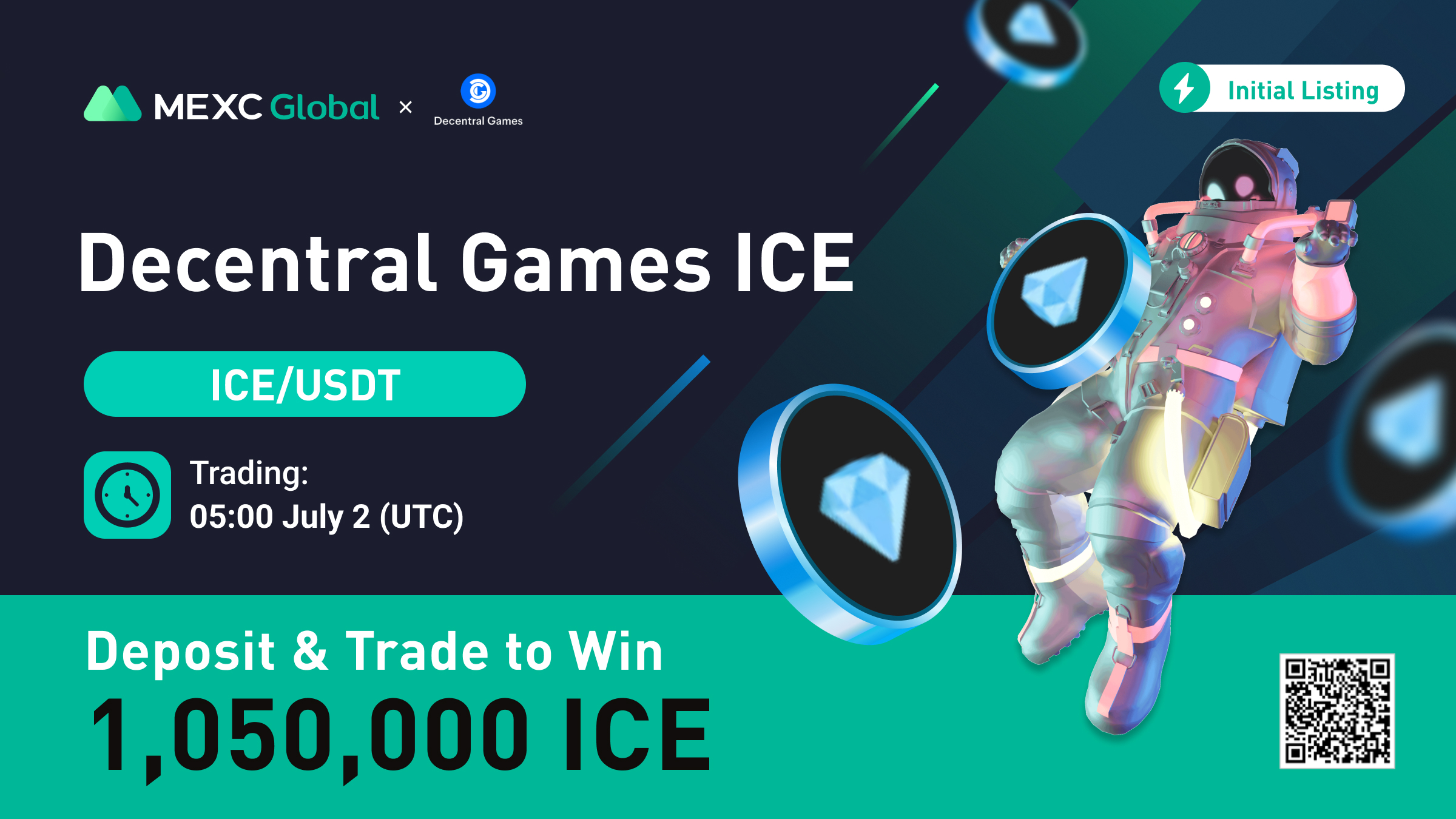 [ ICE Deposit and Trading Contest - 1,050,000 ICE to be Won ]
Activity 1: Deposit ICE and claim from a 500,000 ICE prize pool
Activity Period: 2022-07-01 10:00 (UTC) - 2022-07-05 15:00 (UTC)
During the activity period, users who deposit ICE with a net deposit of no less than 1,000 ICE, could share a total of 500,000 ICE prize pool in proportion to the net deposit amount.
Activity 2: ICE Trading Contest - 550,000 ICE to be won
Activity Period: 2022-07-02 05:00 (UTC) - 2022-07-05 15:00 (UTC)
1) Grand Prize
Users who trade ICE during the activity period will be ranked based on their trading volume. The top 10 users with the largest trading volume (meeting the min. trading volume requirement of 3,000 USDT) can share 400,000 ICE as followed.
| | | |
| --- | --- | --- |
| Rank | Prize (ICE) | Cumulative Min. Trading Vol. (USDT) |
| 1st | 130,000 | 30,000 |
| 2nd | 80,000 | 20,000 |
| 3rd | 50,000 | 10,000 |
| 4-10th | 20,000 each | 3,000 |
2) Participation Prize
All ICE traders (excluding the top 10 winners) with min. trading volume meeting 300 USDT are eligible to share a 150,000 ICE prize pool in proportion to their trading volume respectively.
Note:
The reward will be distributed within 7 days after the activity ends, users can check it in [D/W History] - [Other records].
Net deposit = Deposit - Withdrawal; Valid Trading Volume = Buys + Sells. Transfer amounts between accounts will be excluded.
Users participating in this event must complete the required KYC verification before the end of the event to be deemed eligible to claim the rewards.
Wash trading and any cheating conduct are prohibited. Otherwise, MEXC has the right to deprive the prize, and even freeze the account.
This activity was initiated by the ICE project party, and the rewards are provided by the project party. All participating users are deemed to participate voluntarily. The activity does not constitute any investment advice.
MEXC reserves the final right to interpret.
Project Information
(This information is sourced from the internet. Strictly for references only.)
Project Name: Decentral Games ICE (ICE)
Total Supply: 232,688,370 ICE
Block Explorer (Polygon): https://polygonscan.com/token/0xc6c855ad634dcdad23e64da71ba85b8c51e5ad7c
Official Website: https://ice.decentral.games/
Telegram: https://t.me/decentralgames
Twitter: https://twitter.com/decentralgames
Discord: https://discord.com/invite/cvbSNzY
Project Brief Introduction:
Decentral Games ICE Poker is a free metaverse poker game where players earn tokens by completing daily challenges and competing against each other on a daily leader board. ICE is the in-game currency that incentivizes player liquidity and enables upgrades of in-game items.
Risk Warning
Cryptocurrency investment is subject to high market risk. Please make your investments cautiously. MEXC Global will make the best efforts to choose high-quality tokens, but will not be responsible for your investment losses. As a digital asset trading platform that respects the community, MEXC adheres to the principle of truthful, transparent and fair trading with no malicious intent. We are committed to providing users with safer, more efficient, and more reliable digital assets trading.
Find us on
Medium: https://medium.com/mexcglobal
Telegram: https://t.me/MEXCEnglish
MEXC trading: https://t.me/MEXCTradeofficial
Twitter: https://twitter.com/MEXC_Global
Facebook: https://www.facebook.com/mexcglobal
Discord: https://discord.gg/vs4r8Mr5A8
Instagram: https://www.instagram.com/mexcglobal/
Blog: https://blog.mexc.com/
Refer a friend to enjoy a high rebate; create your personalized invitation link today: https://www.MEXC.com/invite
Buy USDT Instantly here: https://otc.mexc.com/
Enjoy trading on MEXC.
The MEXC Team
01 July 2022