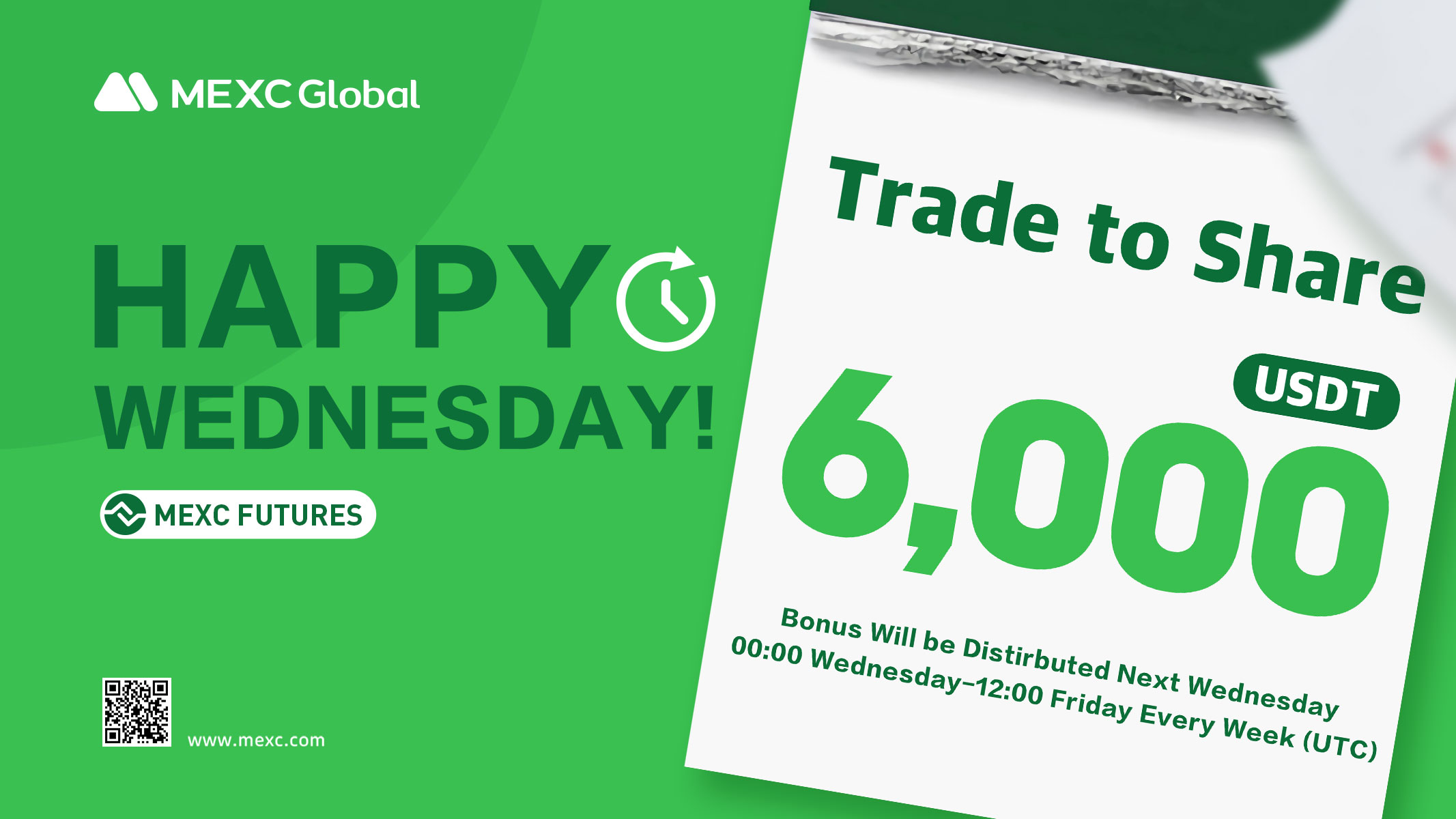 Dear Users,
Great news! As a thank-you for your continued support, MEXC Futures will be launching Wednesday Weekly Event to reward both new and existing futures traders with a 6,000 USDT bonus prize pool. The event details are as follows:
Trading Pairs: All Futures Pairs
Event Period: 00:00 Wednesday - 12:00 Friday Every Week (UTC)
Registration Link: https://www.mexc.com/en-US/landings/WED010?handleDefaultLocale=keep
Event 1: New User Exclusive Reward, 1,000 USDT Bonus to be Shared!
All new users who trade futures on MEXC for the first time will each receive a 2 USDT futures bonus, limited to the first 500 qualified users only. First come, first served!
On top of that, users may also participate in the Newbie Futures Trading Reward Campaign at the same time and earn extra bonuses.
Claim 1,000 USDT Bonus (Web): https://www.mexc.com/futures-activity/bonus
Claim 1,000 USDT Bonus (Mobile): https://m.mexc.me/futures/activity/bonus
Event 2: Trade with 1-125x Adjustable Leverage & Share 1,000 USDT Bonus!
During the campaign, users who trade ≥ 30x leverage in a single trade with minimum total trading volume ≥ 3,000 USDT will share a total of 1,000 USDT futures bonus. The reward will be divided according to the cumulative trading volume of each user on any futures trading pairs.
| | | |
| --- | --- | --- |
| Leverage | Minimum Total Trading Volume | Reward (Bonus) |
| ≥ 30x | ≥ 3,000 USDT | Share 1,000 USDT |
Event 3: Trade to Share 4,000 USDT Bonus Prize Pool!
During the event period, users who achieve the minimum total trading volume as stated below on any futures pairs will be eligible for this bonus reward. The reward will be split into 4 tiers where each tier consists of 1,000 USDT bonus to be shared among the users:
| | | |
| --- | --- | --- |
| Tier Rank | Minimum Total Trading Volume | Reward (Bonus) |
| 1st Tier | ≥ 10,000 USDT | Share 1,000 USDT |
| 2nd Tier | ≥ 100,000 USDT | Share 1,000 USDT |
| 3rd Tier | ≥ 1,000,000 USDT | Share 1,000 USDT |
| 4th Tier | ≥ 5,000,000 USDT | Share 1,000 USDT |
Example: If your total trading volume is greater than 5,000,000 USDT, you are entitled to share the 1,000 USDT bonus from all 4 tiers, i.e. 4,000 USDT bonus pool in total.
Warning:
We encourage our users to trade responsibly. Futures trading comes with high market risks, and the volatility and unpredictability of cryptocurrency prices can lead to both great profits and significant losses. MEXC is not responsible for any losses that may result from price fluctuations when buying, selling, holding and utilizing cryptocurrencies.
Event Notes:
Trading volume = Open Trade + Close Trade (including all futures pairs) during the event period.
This event is an ongoing event from every Wednesday to Friday, starting from 00:00 every Wednesday (UTC) and ending at 12:00 every Friday (UTC). Users who register through the link above during the event period will be considered a participant. The termination of this event will be announced in a separate announcement.
The 6,000 USDT prize pool for this event will be refreshed weekly. The rewards will be distributed within 3 days of the event conclusion.
MEXC reserves the right to revoke the eligibility of any participants involved in wash trading or any suspicious activity that may be condemned as an act of cheating. MEXC reserves the right to forfeit the prize or freeze the account of said users.
MEXC reserves the right of final interpretation for the event information hereinabove.
For Futures Bonus instructions, please refer to:
https://support.mexc.com/hc/en-001/articles/360054434472
Find us on
Telegram: https://t.me/MEXCEnglish
MEXC ETF: https://t.me/MEXCETFCommunity
MEXC Futures: https://t.me/MEXCFutures
MEXC Derivatives: https://twitter.com/MEXCDerivatives
Twitter: https://twitter.com/MEXC_Global
Facebook: https://www.facebook.com/mexcglobal
Instagram: https://www.instagram.com/mexcglobal/
Medium: https://medium.com/mexcglobal
Discord: https://discord.gg/agZNfksc2T
Buy USDT Instantly Here: https://otc.mexc.com/
Create your own referral link today and start inviting friends to enjoy great rebates:
Enjoy trading on MEXC.
The MEXC Team
25 July 2022