Dear users:
The New M-Day program will be launched on MEXC Exchange soon. The M-Day Program is an event held exclusively on MEXC Exchange for mainstream crypto traders to participate in and enjoy project token airdrops.
Users who meet the requirements can get free project tokens. Simple and hassle-free, you're welcome to participate!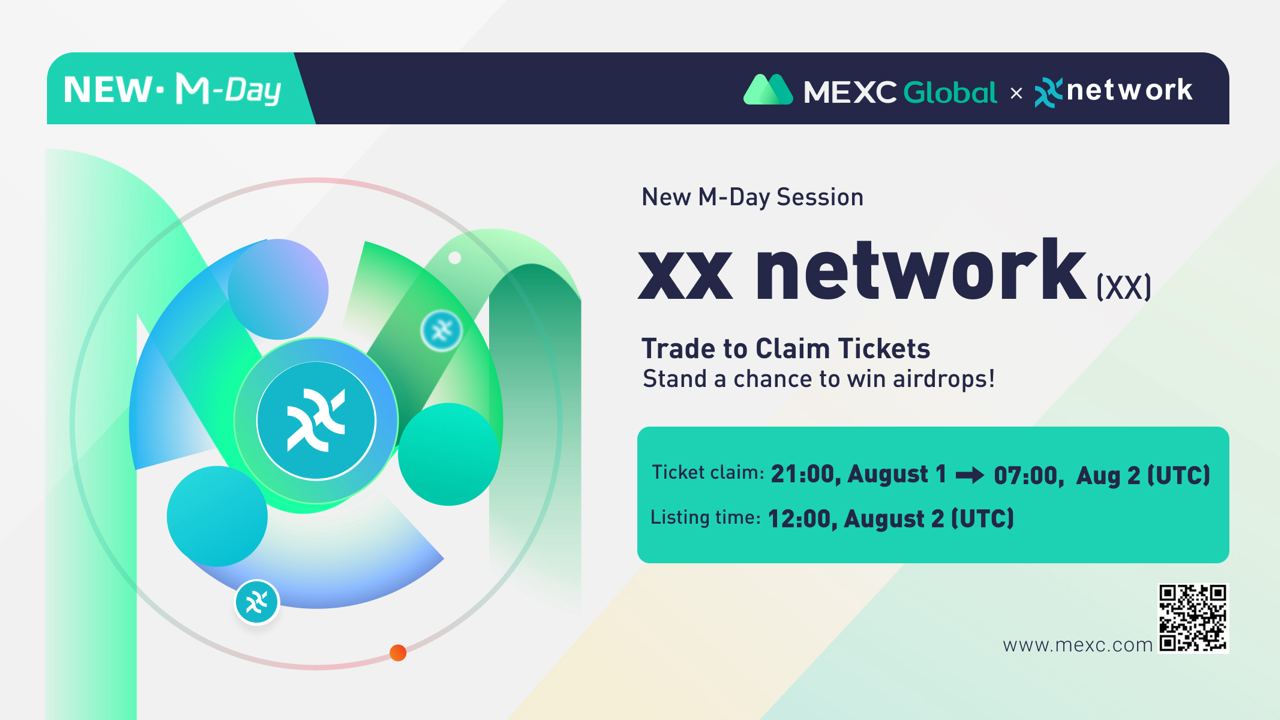 Presenting the project for this session: xx network (XX).
Project Brief Introduction:
The xx network is made up of a fast, low-fee, quantum-ready layer 1 blockchain and the most private communications network in the world. The project was founded by cryptographer David Chaum, the godfather of digital currency and privacy technology. Using the xxDK, any application or blockchain can route their traffic through the xx network's communications layer and provide metadata-protected privacy and quantum-secure, end-to-end encryption to their transactions. The xx messenger mobile app is the first decentralized, quantum-secure, end-to-end encrypted messenger in the world. Available on major app stores, the xx messenger's performance has already attracted daily users in over 65 countries, The xx network utilizes nominated Proof-of-Stake (nPoS) to incentivize all coin holders to run and elect nodes as well as participate in the governance of the platform via an on-chain DAO. The xx network mainnet launched in November 2021. Totally 1 billon coins will be issued over the next 5 years with some deflationary mechanism such as coin burning.
Ticket Information:
Reward pool:

48,000 XX

A total number of winning tickets:

770 tickets

Each winning ticket includes

50 XX
The remaining XX tokens will be used as a participation prize.
Event Type: Airdrop (No asset exchange)
Listing Type

: Initial listing
Eligibility Criteria to Participate
Users who trade the specific cryptos (Spot, ETF, Margin & Futures) on MEXC for 1 days (from 2022-08-01 07:00 to 2022-08-02 07:00 UTC) prior to the end of the ticket-claim time with minimum trading volumes of 500 USDT will be eligible for the lucky draw. The larger the trading volume, the more tickets the user can claim.
The eligible tokens for trading are (including Spot, ETF, Margin & Futures):
MX, BTC, ETH, ZTG, RVLT, ZZ, MBX, FON, AICO, ICE, PMG, BULL, BLK, AVO, TOKKI, QUINT, PTR, WIT, OLE, XRPAYNET, VKT, INSURE, BNS, SKOLL, CEEK, PIT, KLAY, DKS, VINU, MATIC, SOL, LUNC, LUNA, TRU1, STRM, AZERO, BNB, CAW, SHIT, SHIB, BONE, DOGE, RACA, LUFFY, NEAR, GARI, BABYDOGE, S2K, IP3, CEL, ADA, TSUKA, CULT, XLM
XRP, TRX (only inclusive of Futures and ETF trading volume)
**Only the USDT trading pair is considered for the calculation of M-Day trading volume.


The details are shown in the form below:
Trading Round(Spot, ETF, Margin, Futures)

Trading Volume (USDT)

Tickets

500≤ X <3,000

1

3,000≤ X <10,000

2

10,000 ≤ X <30,000

3

30,000 ≤ X <50,000

4

50,000 ≤ X <80,000

5

80,000 ≤ X <100,000

7

100,000 ≤ X <130,000

9

130,000 ≤ X <160,000

11

160,000 ≤ X <190,000

13

190,000 ≤ X <250,000

15

250,000 ≤ X <500,000

17

500,000 ≤ X <1,000,000

20

1,000,000 ≤ X <3,000,000

50

3,000,000 ≤ X <5,000,000

70

≥5,000,000

100
Note: Futures trading volume will be converted into the total trading volume at a 50% rate.
The M-Day Process
Ticket-claim time:

2022-08-01 21:00 - 2022-08-02 07:00 (UTC)
Please note that the ticket number ranges from 00001 to 99999. Users can draw a number of tickets based on the draw order. Each user can get multiple tickets. The system will allocate tokens based on the time of drawing, and each account will be allocated with tickets based on trading volumes.
Announcement of draw results:

2022-08-02 09:00 (UTC)
Participants can visit the M-Day page (https://www.mexc.com/mday) to check if they hold any winning tickets.
XX Airdrop:

2022-08-02 09:30 (UTC)
XX airdrops will be distributed to users who hold winning tickets.
XX/USDT Spot Trading in Innovation Zone:

2022-08-02 12:00 (UTC)
Participation prize:
Users who did not receive any winning tickets from the draw will still be able to claim from the participation prize pool of remaining tokens in proportion to the number of losing tickets in their possession respectively.
Note:
Ticket claims can only be done once. Please make sure you have hit your desired trading volume before claiming your tickets.

Trading volume accumulated after claiming your tickets will not reward additional tickets.
Project Info
(This information is provided by the project team. Strictly for references only.)
Project Name: xx network (XX)
Max Supply: 1,000,000,000 XX
Official Website: https://xx.network
Block Explorer (Mainnet): https://explorer.xx.network
Twitter: ​​https://twitter.com/xx_network
Telegram: https://t.me/xxnetwork
Discord: https://discord.gg/Y8pCkbK
Youtube: https://www.youtube.com/c/xxnetwork
Risk Warning
Cryptocurrency investment is subject to high market risk. Please make your investments cautiously. MEXC will make best efforts to choose high-quality tokens, but will not be responsible for your investment losses. As a digital asset trading platform that respects the community, MEXC adheres to the principle of truthful, transparent, and fair trading, with no malicious intent. We are committed to providing users with a service that is safer, more efficient, and more reliable for the trading of digital assets.
Find us on
Medium: https://medium.com/mexcglobal
Telegram: https://t.me/MEXCEnglish
MEXC trading: https://t.me/MEXCTradeofficial
Twitter: https://twitter.com/MEXC_Global
Facebook: https://www.facebook.com/mexcglobal
Discord: https://discord.gg/vs4r8Mr5A8
Instagram: https://www.instagram.com/mexcglobal/
Blog: https://blog.mexc.com/
Buy USDT Instantly here: https://otc.mexc.com/
Refer a friend to enjoy a high rebate, create your personalized invitation link today: https://www.mexc.com/invite
Enjoy trading on MEXC.
The MEXC Team
29 July 2022