Dear Users,
Ethereum 2.0's Merge upgrade is scheduled to take place in September 2022. MEXC will support Ethereum's upgrade and its potential hard fork. If successful, two parallel blockchains could be created after the upgrade. All ETH holders on MEXC will receive the forked assets at a 1:1 ratio when the upgrade is completed. Learn more about Ethereum (ETH) 2.0:
What is Ethereum 2.0 (ETH 2.0)
To mitigate the risks caused by market volatility during the hard fork and safeguard users' assets, MEXC will list two "potential forked" ETH tokens and the associated markets with the following arrangements:
1. Prior to the upgrade, ETH holders on MEXC can go to the swap page to swap their ETH into two "potential forked" tokens, ETHS and ETHW at a 1:1 ratio (1 ETH= 1 ETHS+1 ETHW). Users are also allowed to swap their ETHS and ETHW into ETH at the same ratio before the upgrade. MEXC will open the corresponding markets with the following timeline:
- ETHS: The token for the new PoS (proof-of-stake) chain;
- ETHW: The token for the PoW (proof-of-work) chain that will potentially continue to exist once the hard fork occurs.
Swap (ETH into ETHS & ETHW) Period: 2022-08-08 02:00 (UTC) till ETH 2.0 upgrade
Swap (ETHS & ETHW into ETH) period: 2022-08-08 02:00 (UTC) till ETH 2.0 upgrade
Trading for ETHS & ETHW: 2022-08-08 04:00 (UTC)
Deposits & Withdrawals: Deposits and withdrawals of ETHS & ETHW will not be enabled.
Follow the steps below to conduct asset exchange between ETH, ETHS, and ETHW (Only the Web version is available for now):
Step 1: Log into MEXC - Click "Wallet" in the navigation bar - Click "Overview"

Step 2: Find "ETH" in your spot account - Click "Exchange"

Step 3: Enter the amount you want to exchange - Click "Exchange Now"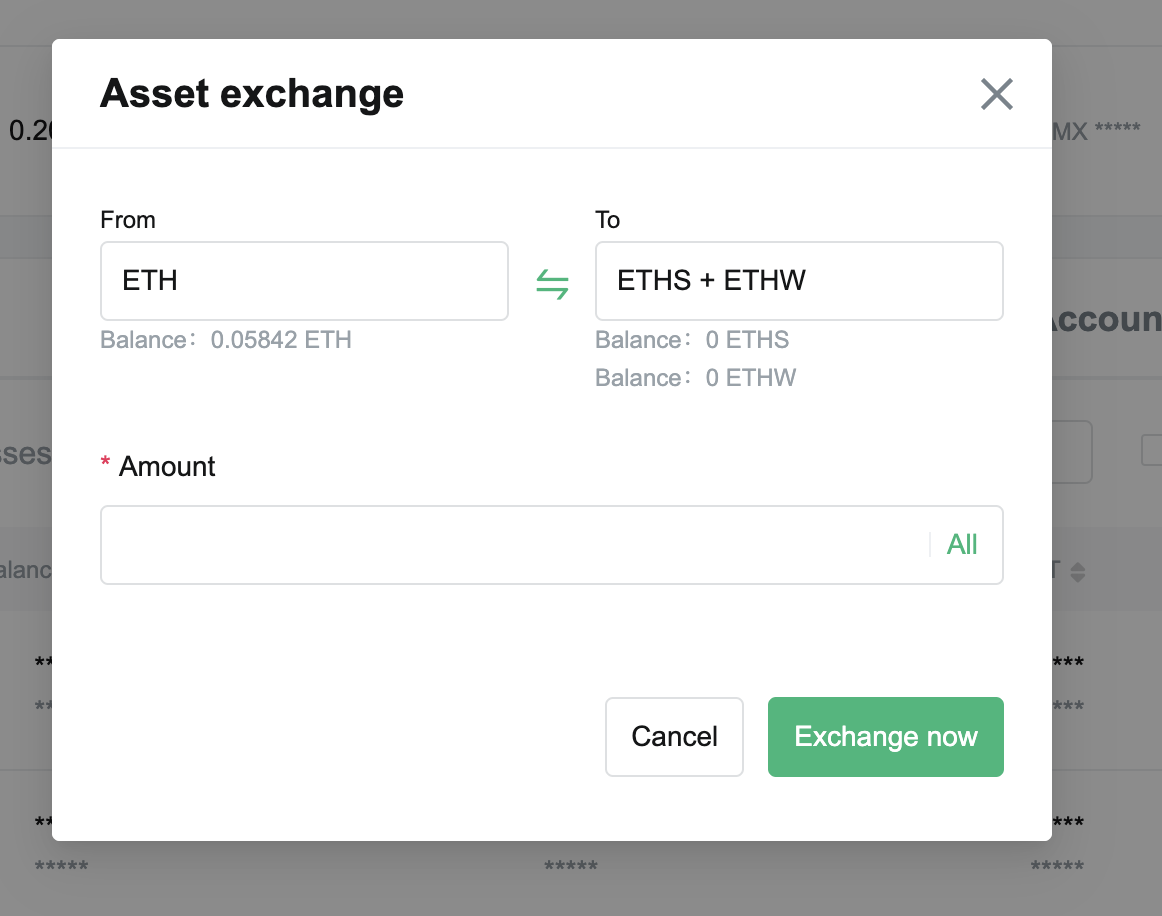 2. MEXC will take snapshots of all ETHS balances before the upgrade. If the ETH 2.0 upgrade ends up with more than one chain:
ETHS will be automatically converted into the upgraded ETH at a 1:1 ratio and the ETHS market will be closed.
After the hard fork, the PoW chain with the most hashrate will serve as the main chain of ETHW. ETHW held by users will be automatically converted into the upgraded ETHW at a 1:1 ratio.
MEXC will also support other PoW chains resulting from the fork if any, and fully respect the community's opinions on token naming.
MEXC will adapt the token's name to the final community consensus and re-enable the token's deposits and withdrawals in due course.
For details about the snapshot and airdrops, please follow our upcoming announcements.
3. If ETH 2.0 upgrade is completed without a fork (Ethereum transitions from PoW to PoS):
The ETH symbol will be retained.
In this case, MEXC will suspend and delist ETHS, ETHW, and their associated markets.
Users can swap their ETHS and ETHW tokens to ETH at 1:1 ratio (1ETHS+1 ETHW = 1 ETH).
Please be cautious about the potential risks involved.
Please note:
Based on the latest market information and community consensus, MEXC will take the above measures and continue to make the utmost effort to maintain a stable market. More details will be provided in the following announcements.
MEXC reserves the right to amend or change this announcement at any time (e.g. delist the relevant trading pairs in advance) to adapt to the latest market trends.
Risk Reminder:
As there are still uncertainties in the hard fork of Ethereum, trading or investing in "potential forked" tokens bears high risks. This potential fork may not last due to insufficient hashrate or a possible lack of support from developers or community members, which will cause the tokens to lose all value or be delisted from MEXC. MEXC does not guarantee the value of any "potential forked" tokens. Please be prudent before making any decisions.