Dear users:
MEXC will list Portugal National Team Fan Token (POR) in the Assessment Zone and open trading for the POR/USDT trading pair. The specific timeline is shown below.
Deposit & Withdrawal: Opened

POR/USDT Trading: 07:00 2022-08-06 (UTC)
Note: Prices may fluctuate greatly for projects listed in the Assessment Zone, please be cautious and be aware of hidden risks of delisting.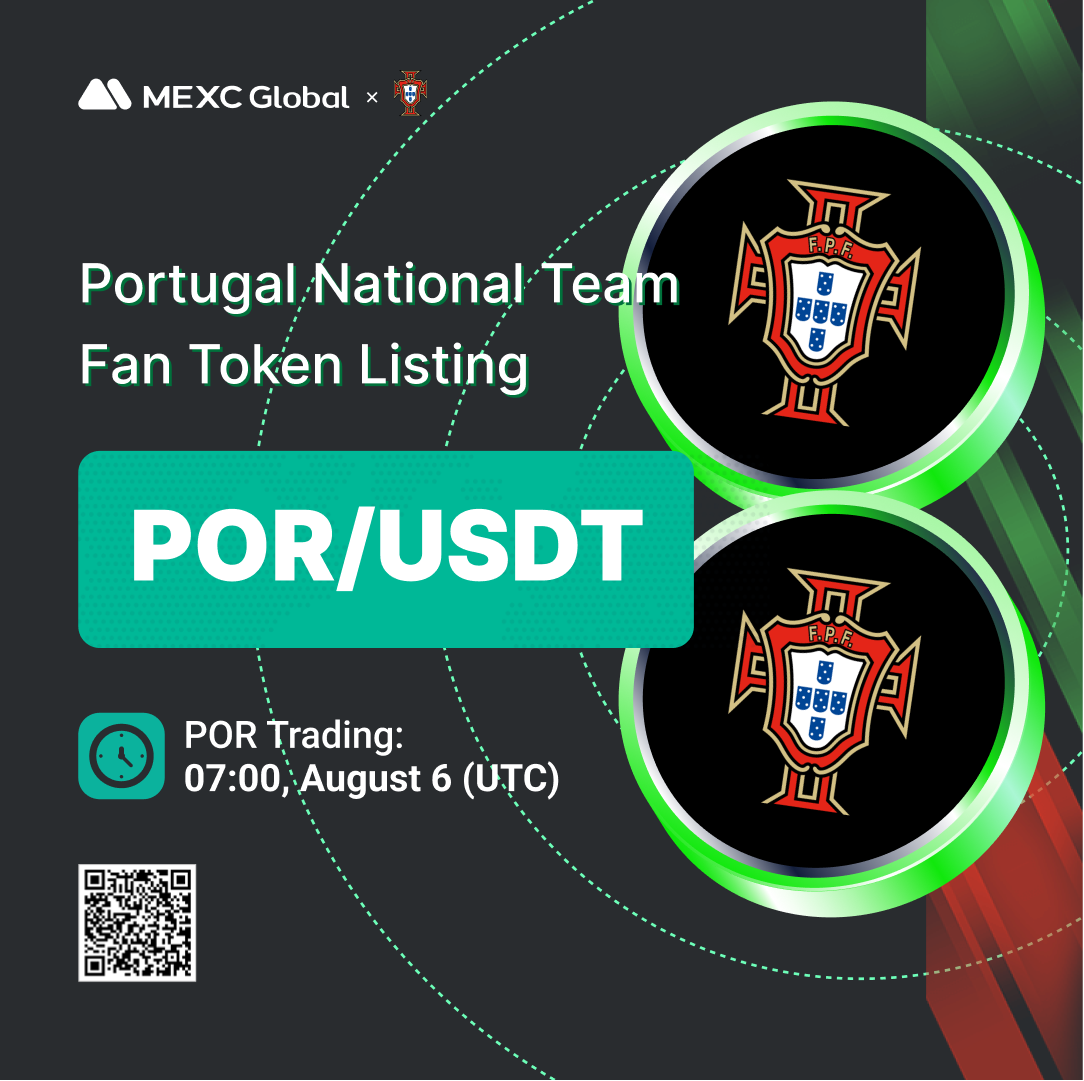 Project Info
(This information is sourced from the internet. Strictly for references only.)
Project Name: Portugal National Team Fan Token (POR)
Max Supply: 20,000,000 POR
Official Website: https://www.fpf.pt/pt/
Block Explorer (Chiliz):
Twitter: https://twitter.com/selecaoportugal
Project Brief Introduction:
One of the biggest names in world football, Portugal is the reigning European Champions and also won the inaugural UEFA Nations League in 2019. Six of Portugal's 26-man squad for the Euros currently play for clubs from the Socios.com roster, including Captain Cristiano Ronaldo (Juventus), Bernardo Silva and Rúben Dias (Manchester City), Danilo Pereira (Paris Saint-Germain), Gonçalo Guedes (Valencia CF) and João Félix (Atlético de Madrid).
Portugal National Team Fan Token (POR) is a cryptocurrency and operates on the Chiliz platform.
Risk Warning
Cryptocurrency investment is subject to high market risk. Please make your investments cautiously. MEXC Global will make the best efforts to choose high-quality tokens, but will not be responsible for your investment losses. As a digital asset trading platform that respects the community, MEXC adheres to the principle of truthful, transparent and fair trading with no malicious intent. We are committed to providing users with safer, more efficient, and more reliable digital assets trading.
Find us on:
Medium: https://medium.com/mexcglobal
Telegram: https://t.me/MEXCEnglish
MEXC trading: https://t.me/MEXCTradeofficial
Twitter: https://twitter.com/MEXC_Global
Facebook: https://www.facebook.com/mexcglobal
Discord: https://discord.com/invite/327Xev25
Instagram: https://www.instagram.com/mexcglobal/
Refer a friend to enjoy a high rebate; create your personalized invitation link today:
https://www.MEXC.com/invite
Buy USDT Instantly here: https://otc.mexc.com/
Enjoy trading on MEXC.
The MEXC Team
6 Aug 2022