Dear users,
MEXC will list Compendium Finance (CMFI) in the Innovation Zone and open trading for the CMFI/USDT trading pair. The specific timeline is shown below.
Deposit & Withdrawal: Opened

CMFI/USDT Trading: 12:00 2022-08-10 (UTC)
Note: Prices may move greatly for projects listed in the Innovation Zone, please be cautious of the risks.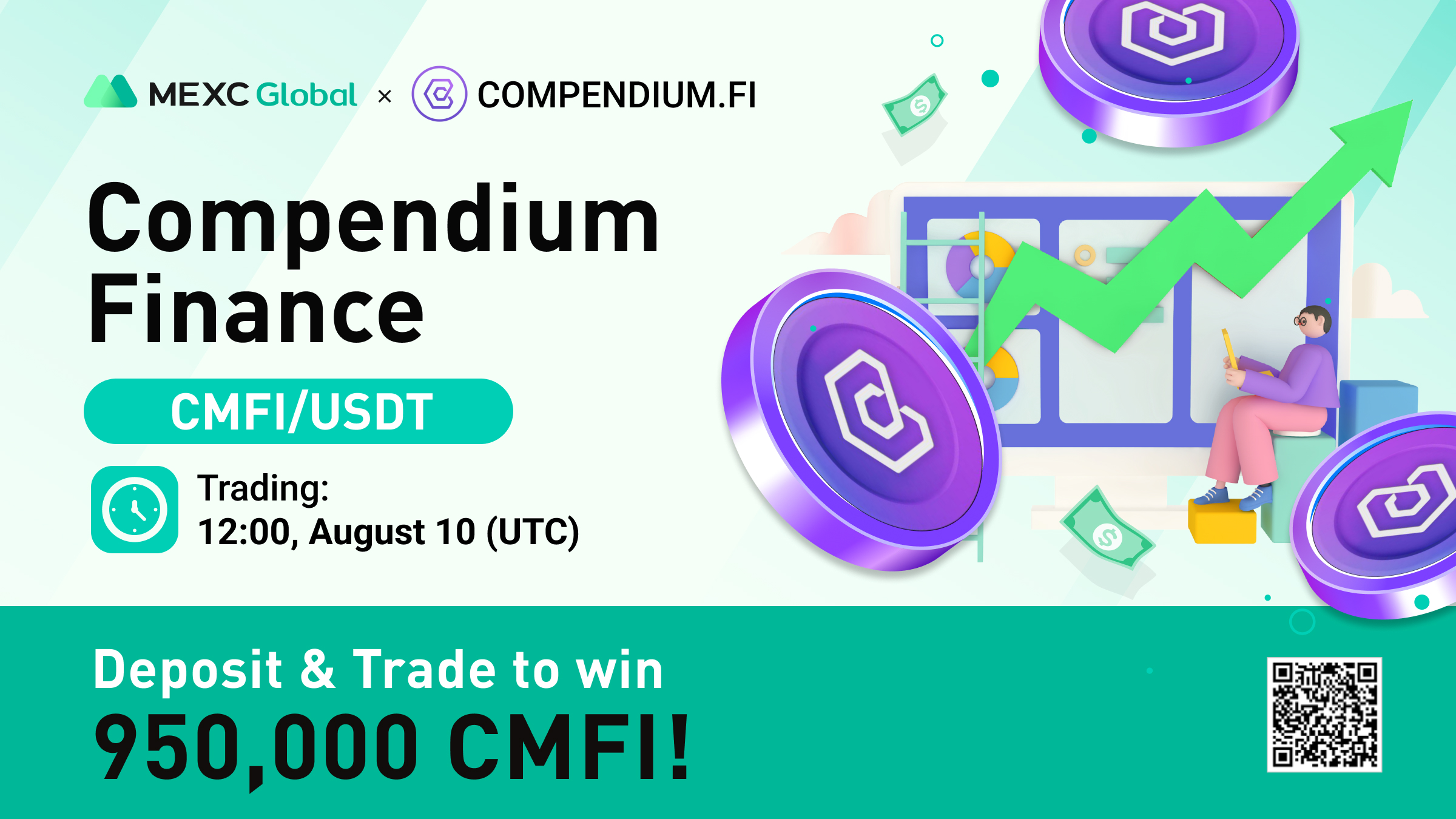 Exciting News!
The Compendium Finance team will host a deposit and trading competition exclusively for MEXC users. There will be a total of 950,000 CMFI up for grabs!
The event details are as followings:
Exclusively for MEXC users:
Compendium Finance (CMFI) Deposit and Trading Competition
950,000 CMFI Up for Grabs!
Event A: Deposit to share 100,000 CMFI!
Event Period: 2022-08-09 12:00 to 2022-08-14 16:00 (UTC)
During the event duration, users who deposit CMFI from exchanges or wallets other than MEXC with a minimum net deposit amount of 1,500 CMFI can share the prize pool of 100,000 CMFI in proportion to the deposit amount.
Event B: Be in the top 30 traders to win 400,000 CMFI rewards!
Event Period: 2022-08-10 12:00 to 2022-08-14 16:00 (UTC)
Rules:
During the event duration, users that trade CMFI with a minimum trading volume of 8,000 USDT worth of CMFI can stand a chance to win 400,000 CMFI rewards.
The top 30 traders will be ranked according to their total trading volume, rewards distribution is as below:
Rank

Prize (CMFI)

Min. Trading Volume (USDT)

1st

90,000

30,000

2nd

70,000

3rd

50,000

4th - 10th

Share 60,000 in proportion

15,000

11th - 20th

Share 70,000 in proportion

10,000

21th - 30th

Share 60,000 in proportion

8,000
Event C: Participation Prize - Trade to share 450,000 CMFI
Event Period: 2022-08-10 12:00 to 2022-08-14 16:00 (UTC)
Rules:
All CMFI traders with a minimum trading volume of 500 USDT are eligible to share a 450,000 CMFI prize pool (Excluding the top 30 traders).
Prizes received by each user are proportional to the individual trading volume during the event.
Project Info
(This information is provided by the project team. Strictly for references only.)
Project Name: Compendium Finance (CMFI)
Max Supply: 500,000,000 CMFI
Official Website: https://compendium.finance/
Block Explorer (Solana):
https://explorer.solana.com/address/5Wsd311hY8NXQhkt9cWHwTnqafk7BGEbLu8Py3DSnPAr
Twitter: ​​https://twitter.com/compendiumfi
Discord: https://discord.gg/64r2xtqczs
Project Brief Introduction:
The CompendiumFi platform is built to offer traders a comprehensive suite of tools for a list of growing ecosystems. Our consumer-facing application is split into two separate entities. One side of our tooling focuses on integrations with popular and liquid centralized exchanges, while the other side focuses on improving the on-chain trading offerings of decentralized protocols built on Solana (with more chains to come shortly). Automation and simplicity are key to all of our offerings. We're here to help make crypto trading easier for everyone. Subscribe to bots, make your own, copy friends, or manually trade across multiple ecosystems in our intelligent interfaces.
Note:
The winner list and rewards will be announced and distributed within 10 working days after the event concludes.

Net deposit = Deposit - Withdrawal.

Valid Trading Volume = Buys + Sells. Transfer amounts between accounts will be excluded.

Users participating in this event must complete the required KYC verification before the end of the event to be deemed eligible to claim the rewards.

Users that are ranked in the top 30 traders on the Compendium Finance Trading Contest are not qualified for the Participation Prize.

Wash trading and any cheating conduct are prohibited. Otherwise, MEXC has the right to deprive the prize, or even freeze the account.

This activity was initiated by the Compendium Finance project party, and the rewards are provided by them. All participating users are deemed to participate voluntarily. The activity does not constitute any investment advice.

MEXC reserves the final right to interpret the event.
Risk Warning
Cryptocurrency investment is subject to high market risk. Please make your investments cautiously. MEXC will make its best efforts to choose high-quality tokens, but will not be responsible for your investment losses. As a digital asset trading platform that respects the community, MEXC adheres to the principle of truthful, transparent, and fair trading, with no malicious intent. We are committed to providing users with a service that is safer, more efficient, and more reliable for the trading of digital assets.
Enjoy trading on MEXC.
The MEXC Team
09 August 2022