Dear users,
MEXC will list LINK (LN) in the Innovation Zone and open trading for the LN/BTC trading pair. The specific timeline is shown below.
Deposit & Withdrawal: Opened

LN/BTC Trading: 10:00 2022-08-11 (UTC)
Note:
Prices may move greatly for projects listed in the Innovation Zone, please be cautious of the risks.
Singapore and Japan KYCed users will not be allowed to trade LN/BTC due to regional jurisdiction concerns.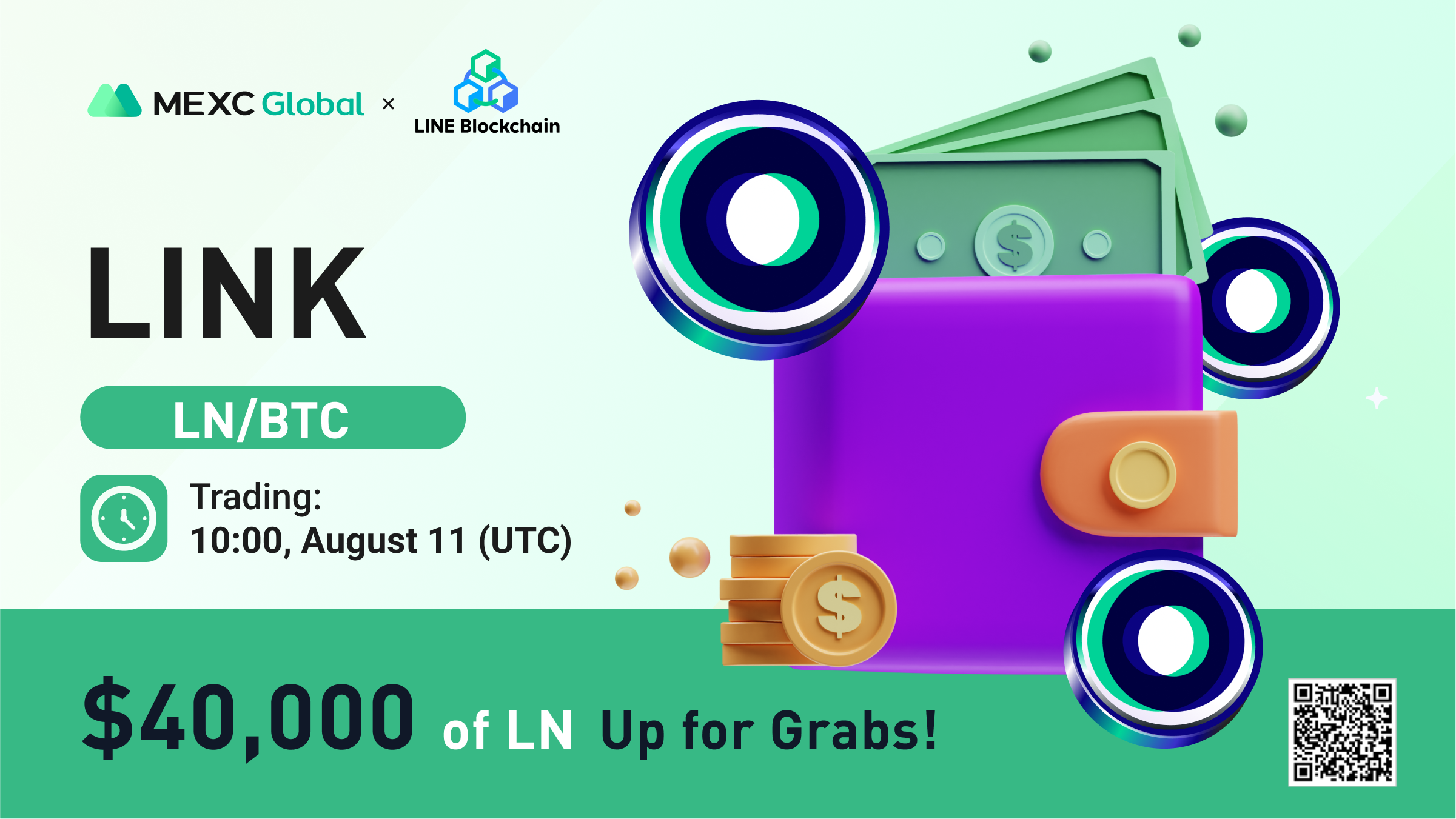 Exciting News!
The LINK team will host a deposit & hold to earn event exclusively for MEXC users. There will be a total of $40,000 LN up for grabs!
The event details are as followings:
Exclusively for MEXC users:
LINK (LN) Deposit & Hold to Earn Event
$40,000 LN Up for Grabs!
Event A: Deposit to share $5,000 LN!
Event Period:
2022-08-10 10:00 to 2022-08-15 16:00 (UTC)
Details:
During the event duration, users who deposit LN from exchanges or wallets other than MEXC with a minimum net deposit amount of 1 LN can share the prize pool of $5,000 worth of LN in proportion to the deposit amount.
Event B: Be the top 30 holders to win $20,000 LN rewards!
Event Period:
2022-08-11 10:00 to 2022-08-15 16:00 (UTC)
Details:
During the event duration, MEXC will take a snapshot of each user's LN balance at a random time on a daily basis. The top 30 users with the highest average holding amount of LN on MEXC will win a share of a $20,000 LN prize pool.
The top 30 holders will be ranked according to their LN average holding amount, rewards distribution is as below:
Rank

Prize (LN)

Min. LN Holding Amount

1st

$4,500

500

2nd

$3,500

3rd

$2,500

4th - 10th

Share $4,500 in proportion

350

11th - 20th

Share $3,000 in proportion

200

21th - 30th

Share $2,000 in proportion

100
Event 3: Participation Rewards - Hold to Win a Share of $15,000 LN!
Event Period:
2022-08-11 10:00 to 2022-08-15 16:00 (UTC)
Details:
During the event duration, users who have an average LN holding amount of 10 LN and above on MEXC but did not make it in the top 30 will split a $15,000 LN prize pool in proportion to users' individual holding amount. The maximum reward cap per user is 3 LN.
Project Info
(This information is sourced from the internet. Strictly for references only.)
Project Name: LINK (LN)
Max Supply: 1,000,000,000 LN
Official Website: ​​https://blockchain.line.me/
https://scan.link.network/0x3001004/main
Twitter: https://twitter.com/linebc_global
Discord: https://discord.com/invite/2WKdP9a8HP
Facebook: ​​https://www.facebook.com/line.blockchain
Line: https://page.line.me/lineblockchain
Medium: https://medium.com/lineblockchain
Project Brief Introduction:
LINK(LN) is a crypto asset of the LINE Blockchain, a blockchain developed independently by LINE. LINE is a global mobile platform corporation with more than 180 million monthly active users (MAU), and is transforming digital finance through innovations such as content, commerce, game, AI, fintech, and banking. LINE Blockchain is expanding the ecosystem in all directions within the blockchain industry, including blockchain platform business, crypto asset exchange business, and crypto funds.
LINE Blockchain aims to build a blockchain ecosystem that can be easily used by large service providers and general users in real life with a mission of 'Blockchain Designed for Everyone.' We aim for a better user experience and development quality through providing users LINE Blockchain's all-in-one mainnet, an OPEN API dev platform, and LINE account based wallet service (currently available in Japan) so that they can utilize digital assets and get along with blockchain technology easily.
Since the launch of LINE Blockchain project in 2018, LINE Blockchain has been forming a safe and secure token economy where all ecosystem participants can grow together along with a developers platform released in August 2020.
Note:
Winner list and rewards will be announced and distributed within 10 working days after the event concludes.

The amount of LN rewards depends on the real-time LN/BTC price on MEXC Global at the time of distribution.

Net deposit = Deposit - Withdrawal.

Snapshot for LN holding position will only cover users' LN in the Spot wallet.

Users that ranked in the top 30 holders for Event B are not qualified for the Event C Participation Rewards.

Users participating in this event must complete the required KYC verification before the end of the event to be deemed eligible to claim the rewards.

Wash trading and any cheating conduct are prohibited. Otherwise, MEXC has the right to deprive the prize, or even freeze the account.

This activity was initiated by the LINK project party, and they provide the rewards. All participating users are deemed to participate voluntarily. The activity does not constitute any investment advice.

MEXC reserves the final right to interpret the event.
Risk Reminders
Users are strongly advised to do their own research before participating. Nothing herein shall be construed to be financial advice or recommendation to participate in the associated network. The price of the project token may fluctuate greatly due to market conditions and other factors. Withdrawal for the project token may be suspended (fully/partially) due to the token mechanism.
Enjoy trading on MEXC.
The MEXC Team
10 August 2022