Dear users,
MEXC Global is thrilled to launch another session of Kickstarter, a listing campaign initiated by the project team on MEXC before launch where users can stake tokens to vote towards a predetermined goal. Once the goal is hit, the listing process will be kickstarted and free token airdrops will be arranged for participating users prior to the listing. If the voting does not meet the set target, MEXC Global will cancel the project listing and unlock the voting tokens. This event is designed to identify high-quality projects and at the same time, bring airdrop benefits to MEXC users.
Presenting the project for this session of Kickstarter, Sirius Finance (SRS).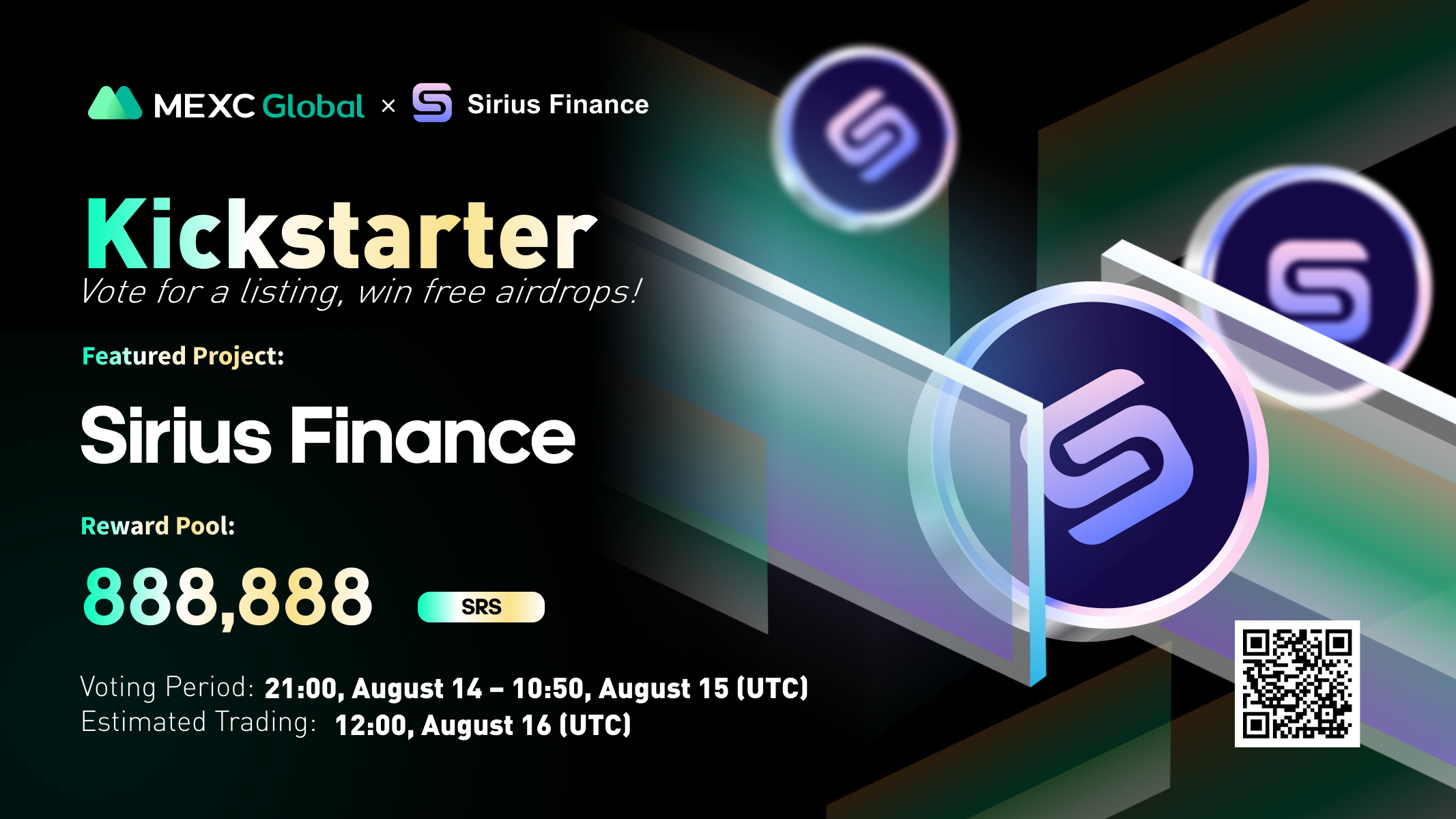 Project Info
(This information is provided by the project team. Strictly for references only.)
Project Name: Sirius Finance (SRS)
Max Supply: 1,000,000,000 SRS
Official Website: https://www.sirius.finance/
Block Explorer (Astar):
https://blockscout.com/astar/token/0x9448610696659de8F72e1831d392214aE1ca4838/token-transfers
Twitter: http://twitter.com/Sirius_Finance
Telegram: https://t.me/siriusfinanceofficial
Discord: ​​https://discord.com/invite/7yHgwnWF7F
Medium: https://medium.com/@siriusfinance
Project Brief Introduction:
Sirius Finance is the first Polkadot native stable swap AMM on Polkadot powered by Astar Network.
Serving as the native Stableswap on Polkadot powered by Astar for stablecoins and stable pairs made possible through liquid staking tokens. Sirius finance aim to help provide stable liquidity, trading and low impermanent loss for users on Polkadot using our Stableswap algorithm.
How to join Kickstarter:
Users can stake MX tokens to participate in voting and stand a chance to win free project airdrops. The max amount of MX you can commit depends on the MX balance in your Spot Wallet at the snapshot time (MEXC will take a random snapshot of users' MX holdings during the snapshot period).
Details are as follows:
Deposit & Withdrawal: Opened

Snapshot Period: 2022-08-13 16:00 - 2022-08-14 15:59 (UTC)

Voting Period:

2022-08-14 21:00 to 2022-08-15 10:50 (UTC)

Estimated Trading:

2022-08-16 12:00 (UTC)

Voting Link:

https://www.mexc.com/sun/assessment

Airdrop Details:
Reward Pool:

888,888 SRS

Price: 0 USDT (Reference Price: $0.036)
Voting Token:

MX

Requirements: 10 ≤ MX ≤ 500,000

Rules: The tokens used for voting will be temporarily locked during the event period and will be unlocked within an hour once the event concludes. Users can vote as many times as they wish before the voting period ends.

Rewards: The airdrop rewards will be distributed proportionally within an hour according to users' total votes once the event concludes.
For more details, please visit the Kickstarter page
On Listing:
1) Listing details will be announced in a separate announcement after Kickstarter ends, please stay tuned!
2) Target voting rate: 500%
Voting rate = Total value of votes / total value of rewards
(Note: The unit of calculation will be uniformly converted to USDT)
*Projects will only be listed when the voting rate hits 500%.
Terms & Conditions:
Staked tokens will be refunded once the event concludes. No fees will be required for participation in the Kickstarter event.

Users participating in this event must complete the required KYC verification before the end of the event to be deemed eligible for the rewards.

MEXC has the final interpretation right of this event.
Risk Reminders
Users are strongly advised to do their own research before participating. Nothing herein shall be construed as financial advice or recommendation to participate in the associated network. The price of the project token may fluctuate greatly due to market conditions and other factors. Withdrawal for the project token may be suspended (fully/partially) due to the token mechanism.
Find us on
Medium: https://medium.com/mexcglobal
Telegram: https://t.me/MEXCEnglish
Twitter: https://twitter.com/MEXC_Global
Facebook: https://www.facebook.com/mexcglobal
Discord: https://discord.com/invite/4Jrghy7gxs
Instagram: https://www.instagram.com/mexcglobal/
Blog: https://blog.mexc.com/
Buy USDT Instantly here: https://otc.mexc.com/
Refer a friend to enjoy a high rebate, create your personalized invitation link today: https://www.mexc.com/invite
Enjoy trading on MEXC.
The MEXC Team
14 August 2022