Dear users,
The session of Kickstarter for Sirius Finance has concluded. Users have contributed a total of 36,681,540.39 MX to vote for SRS on MEXC!
Airdrop rewards have been distributed to users' accounts.
Thank you for participating!
[SRS Listing Information]
Deposit & Withdrawal: Opened
SRS/USDT Trading in the Innovation Zone: 2022-08-16 12:00 (UTC)
Warning: Prices may fluctuate greatly for projects listed in the Innovation Zone. Please be cautious of the risks.
For more information regarding the Kickstarter event and project introduction of Sirius Finance, please refer to: [Initial Listing] MEXC Kickstarter - Vote to Win Free 888,888 Sirius Finance (SRS) Airdrops!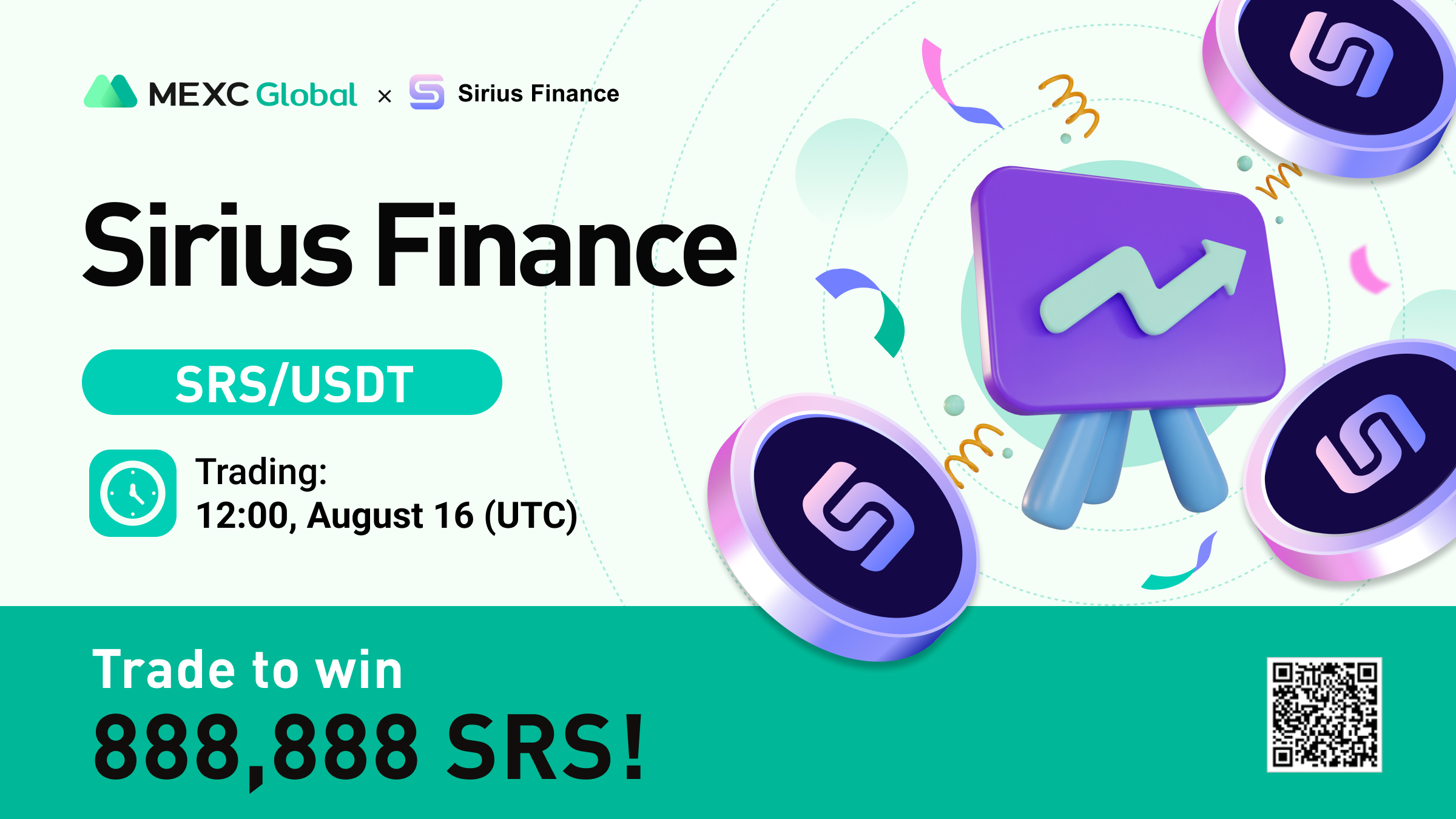 To celebrate the launch of SRS on MEXC, the Sirius Finance team will host a Trading Competition exclusively on MEXC Global.
There will be 888,888 SRS up for grabs!
SRS Trading Competition - 888,888 SRS Up for Grabs!
Event Period: 2022-08-16 12:00 - 2022-08-21 16:00 (UTC)
Event A: Be in the top 30 traders to win 400,000 SRS rewards!
Rules:
During the event duration, users that trade SRS with a minimum trading volume of 8,000 USDT worth of SRS can stand a chance to win 400,000 SRS rewards.
The top 30 traders will be ranked according to their total trading volume, rewards distribution is as below:
Rank

Prize (SRS)

Min. Trading Volume (USDT)

1st

90,000

30,000

2nd

70,000

3rd

50,000

4th - 10th

Share 60,000 in proportion

15,000

11th - 20th

Share 70,000 in proportion

10,000

21th - 30th

Share 60,000 in proportion

8,000
Event B: SRS Trading Participation Prize- 488,888 SRS to be won!
Rules:
All SRS traders with a minimum trading volume of 500 USDT on the SRS/USDT trading pair are eligible to share a 488,888 SRS prize pool.
Prizes received by each user are proportional to the individual trading volume during the event.
Terms & Conditions:
Valid Trading Volume = Buys + Sells.

Users participating in this event must complete the required KYC verification before the end of the event to be deemed eligible for the rewards.

Rewards will be announced and distributed within 10 days after the event concludes.

Users that are ranked in the top 30 traders on the Event A are not qualified for the Event B.

MEXC reserves the right to disqualify users deemed to be wash trading, illegally bulk registered accounts, and trades that display self-dealing or market manipulation attributes.

This event was initiated by the Sirius Finance official team, and the rewards are provided by the project party. All participating users are deemed to participate voluntarily. This event does not constitute any investment advice.

MEXC has the final interpretation right of this event.
Risk Warning
Cryptocurrency investment is subject to high market risk. Please make your investments cautiously. MEXC Global will make the best efforts to choose high-quality tokens, but will not be responsible for your investment losses. As a digital asset trading platform that respects the community, MEXC adheres to the principle of truthful, transparent and fair trading, with no malicious intent. We are committed to providing users with a service that is safer, more efficient, and more reliable for the trading of digital assets.
Find us on
Medium: https://medium.com/mexcglobal
Telegram: https://t.me/MEXCEnglish
Twitter: https://twitter.com/MEXC_Global
Facebook: https://www.facebook.com/mexcglobal
Discord: https://discord.com/invite/4Jrghy7gxs
Instagram: https://www.instagram.com/mexcglobal/
Blog: https://blog.mexc.com/
Buy USDT Instantly here: https://otc.mexc.com/
Refer a friend to enjoy a high rebate, create your personalized invitation link today: https://www.mexc.com/invite
Enjoy trading on MEXC.
The MEXC Team
15 August 2022